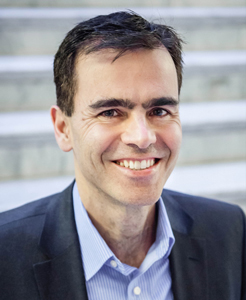 Dr. John Day
Dr. Day is a cardiologist/electrophysiologist at the Intermountain Medical Center Heart Institute in Salt Lake City, Utah. He graduated from Johns Hopkins Medical School and completed his residency and fellowships in cardiology and electrophysiology at Stanford University. He is the former president of the Heart Rhythm Society and currently serves as the president of the Utah chapter of the American College of Cardiology.

Podcast: Play in new window | Download

Subscribe: Apple Podcasts | Android | RSS
Is Coconut Oil Good for Your Heart?
Coconut oil is the health food darling on the Internet. However, media headlines this past week proclaimed "coconut oil isn't healthy" based on a new report from the American Heart Association.  So who is right?   In this article, I'll answer the question, is coconut oil good for your heart?  I'll also share with you four ways to enjoy coconut oil without putting your heart at risk.
The American Heart Association's Coconut Oil Stance
As part of the low fat craze in the 1980s, coconut oil was something that should be avoided.  Now with the low carb craze, coconut oil has suddenly become a health food on the Internet.
This past week, the American Heart Association (AHA) published a warning on coconut oil and other foods high in saturated fats.  Their stance was that saturated fats increase LDL (bad cholesterol) and that a high LDL puts you at risk of cardiovascular disease and a premature death.
The AHA's hope is that Americans will replace saturated fat with unsaturated fat from nuts and seeds or complex carbohydrates from fruits and vegetables.  In contrast to previous publications, the AHA clearly warned that replacing saturated fat with sugar or processed carbohydrates was a recipe for a cardiovascular disaster.
As coconut oil is 90% saturated fat, which is far more than butter (60% saturated fat), beef (40% saturated fat), or even lard (40% saturated fat) it should be avoided according to the AHA.  Interestingly, while there are no specific studies linking coconut oil to heart disease in their publication, the AHA still argues that because coconut oil sends your LDL (bad cholesterol) through the roof, it must be causing harm.
4 Arguments for Coconut Oil as a Health Food
In sharp contrast to the AHA, many Internet sites claim coconut oil is a health food.  Here are the four main arguments in support of coconut oil.
1. Saturated fat isn't bad.
The belief that saturated fat isn't bad comes from studies showing that when you replace saturated fats with carbs, people did worse.  The problem is that you really need to look at these studies closely.  In most of these studies, people replaced saturated fats with sugar and processed carbs.
While saturated fat is "less bad" for you than sugar or processed carbohydrates, that doesn't mean it is a health food.  Indeed, if you carefully review all the studies published, when people replace saturated fats with healthy fats and unprocessed carbohydrates they do much better.
2. Coconut oil raises HDL and lowers triglycerides.
Studies show that coconut oil raises HDL or good cholesterol and lowers triglycerides.  HDL is like the garbage truck taking bad cholesterol (LDL) out of your body.  This is why the saturated fat in coconut oil carries a much lower risk of heart disease than the saturated fat in cheeseburgers and bacon.
Triglycerides, or the little fat particles in your blood, also cause heart disease.  Triglycerides shoot up if you eat sugar or processed carbohydrates.  If you are eating more fats then you are also probably eating less sugar and processed carbs.  Thus, triglycerides tend to be much lower on a high fat diet.
3. Pacific Islanders on a coconut diet don't get heart disease.
Studies of Pacific Islanders show that islanders eating a high coconut diet have very low rates of cardiovascular disease.  However, these were studies of lean Pacific Islanders who were physically active and were otherwise eating a healthy diet.  Sadly, once Pacific Islanders immigrate to the U.S., coconuts lose any possible protective effect.
4. Coconut oil may prevent diabetes.
Studies show that coconut oil may improve insulin sensitivity and prevent diabetes.  As diabetes is one of the biggest causes of heart disease, anything you can do to keep your sugar levels low will minimize your risk.
So Who is Right?
As with most things in life, rarely is anything all bad or all good.  And when it comes to the question of is coconut oil good for your heart, the truth is it depends.
That is because we all have different genes and lifestyles.  In health conscientious people with good genes, saturated fats probably don't cause any harm when eaten in moderation.
This would be like the Pacific Islanders living a traditional lifestyle.  With their traditional lifestyle, they weren't eating much sugar and certainly didn't have access to processed foods.  They were physically active during the day and didn't have all of the stresses of modern life.  In this type of an environment, saturated fats couldn't cause any harm.
However, if you are overweight, don't exercise, are stressed out all the time, or have bad genes then saturated fat is probably going to trash your heart and your arteries.  Certainly, in animals the studies are pretty clear.  If you pump animals full of saturated fat they will develop blockages in their hearts.  However, in the world of saturated fats, coconut oil is much better for your heart than cheeseburgers or bacon.
4 Healthy Ways to Enjoy Coconut Oil
As lifestyle choices and genetics play a role in whether or not saturated fats cause harm, let me share with you four healthy ways to enjoy coconut oil.
1. Be Like the Pacific Islanders
If you enjoy coconut oil then live like the Pacific Islanders did historically.  Make sure your plate is mostly vegetables, you exercise every day, you have optimized your sleep, you are connected socially in meaningful relationships, and that you embrace the stress in your life.  With a healthy lifestyle, saturated fats in moderation won't likely cause any harm.
2. Eat According to Your Genes
Depending on what type of genes you inherited, saturated fat may not pose any risk for you.  For example, if you have one or two copies of the Apo E2 gene then a high fat (ketogenic) diet may be the best thing for you.  However, if you have the Apo E3 or Apo E4 gene then saturated fat may put you at increased risk.
If you want to find out the status of your Apo gene, you can do so at home with the $199 23andMe kit.  Basically, you just spit in a test tube and then they will run the tests.
However, if you want to know your Apo gene status, you will need to pay an additional $5 to have your data transferred to Promethease.  This is because the FDA won't let 23andMe release these sensitive data.
These data are sensitive because if you have one copy of the Apo E4 gene, you have three times the risk of getting Alzheimer's disease.  With two copies of the Apo E4 gene, your Alzheimer's disease risk is 20 times higher.  However, even if you have the wrong Apo gene, studies show that a 100% healthy lifestyle can completely eliminate any increased Alzheimer's disease risk.
3. Check Your Coronary Calcium Score.
If you are over age 50, and don't mind a little radiation, you can have a coronary calcium score done.  This is a cheap test that most insurance companies cover if it is part of a stress test.
Basically, it is a limited CT scan that measures the calcium plaque in your heart.  If your arteries are plugged up then your score will be high.  However, if you are over 50 and have no calcium plaques then saturated fat is unlikely to cause any harm regardless of how high your cholesterol is.
4. Do Advanced Cholesterol Testing.
While it is very clear that coconut oil will shoot up your LDL cholesterol, this may not be as bad as it appears.  Not everyone with a high cholesterol gets heart disease.  This is because cholesterol is just one of many different things that can cause heart disease.
Also, not all LDL cholesterol particles are created equally.  When it comes to heart disease, the highest risk is associated with the small and dense LDL molecules.  Also, the content of the LDL and HDL molecules may also matter when it comes to heart disease risk.
The saturated fat from coconut oil is more likely to increase the big and fluffy LDL molecules.  These big and fluffy LDL molecules are less likely to get stuck in your arteries.
With this in mind, if you love coconut oil and have a high LDL, talk with your doctor about advanced lipid testing.  However, please be aware that detailed lipid testing is controversial and your doctor may not go for it.
This is because some studies show that advanced lipid testing can better assess your risk whereas other studies show it doesn't offer any benefit.  Regardless of whether or not your doctor believes in more detailed lipid testing, all of my cardiology colleagues feel that if you had to pick your LDL, big and fluffy is better.
Take Home Message
The key take away from this article is don't panic if you love coconut oil.  You can still enjoy coconut oil in moderation provided you live a healthy lifestyle.  Even if your lifestyle isn't that great, if you have the Apo E2 gene, a coronary calcium score of zero, or have the right kind of cholesterol particles then there also isn't much to worry about with coconut oil.
Has coconut oil affected your cholesterol numbers?  Please leave your thoughts and questions below.  I'll do my best to answer every question posted as quickly as possible.
If you liked this article, please be sure to sign up for my free weekly newsletter.  In the process, you'll also get a free copy of my recent E-book, Simplicity.  Even if you are already on the newsletter list, go to the sign up page to get your free copy of Simplicity.
Disclaimer
Anything discussed in this article, or any other article I have written, doesn't constitute medical advice.  The only thing I share is general medical information.
Because everyone is different, what works for some people may or may not work for you.  This is why you shouldn't act on anything discussed in this article without first speaking with your doctor.
Subscribe to Dr. Day's Weekly Newsletter
Disclaimer Policy: This website is intended to give general information and does not provide medical advice. This website does not create a doctor-patient relationship between you and Dr. John Day. If you have a medical problem, immediately contact your healthcare provider. Information on this website is not intended to diagnose or treat any condition. Dr. John Day is not responsible for any losses, damages or claims that may result from your medical decisions.
6 Comments