Jane Day
Jane Day is co-author with Dr. John Day of "The Longevity Plan," documenting their journey to China's Longevity Village. "Preparing food for guests has always been a stressful thing - feeling inadequate and fearing that the dishes wouldn't turn out. Posting recipes has been an exercise in the ultimate confrontation of this fear. Gratefully, the joy in figuring out how to make favorite dishes with healthier ingredients now exceeds the fear and I take courage in the idea that maybe I can help someone else do the same."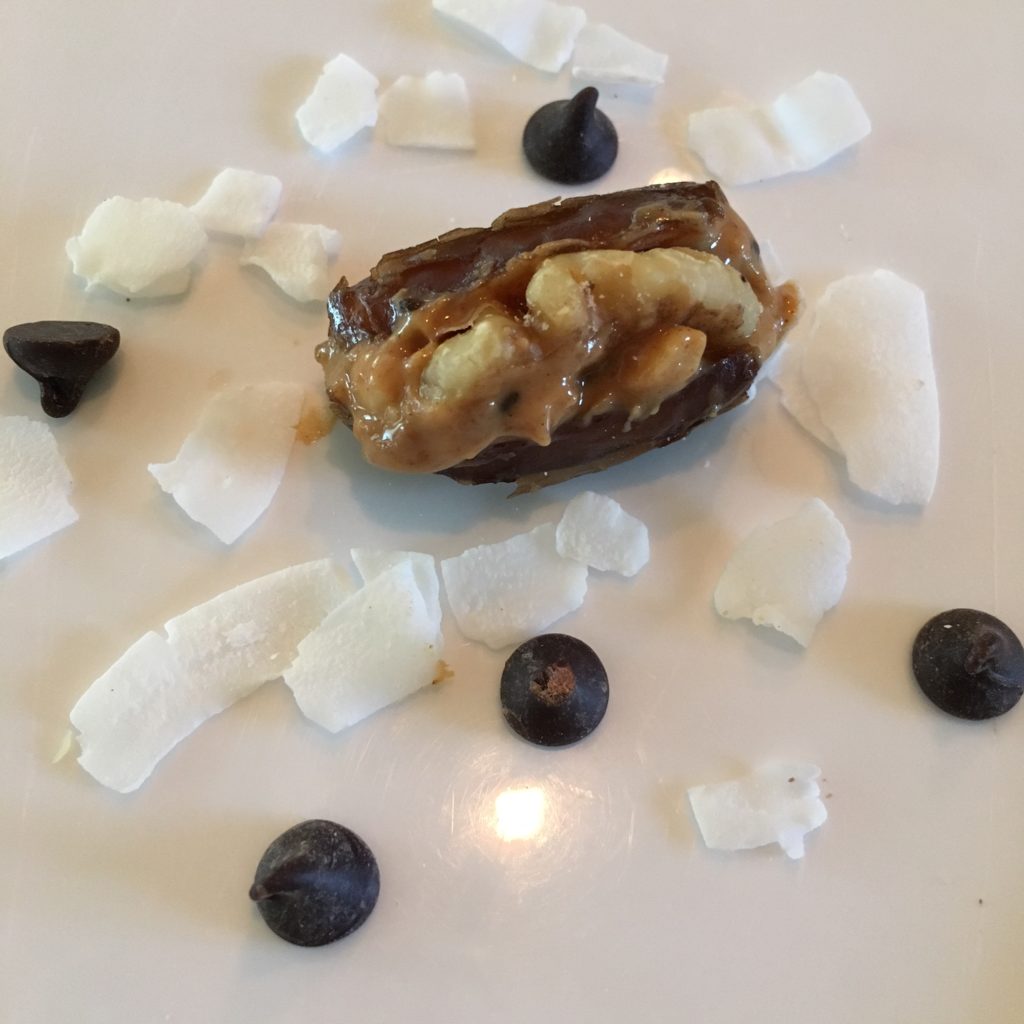 If you'd like a healthy treat to share at gatherings or just to enjoy yourself, these little bars are a nutritious and tasty delight.  Just slice a deglet noor date and add a little crunchy salted almond butter or peanut butter and a whole almond, pecan or walnut, then sprinkle with coconut and stevia sweetened dark chocolate chips. You can even mix in a little chia seed and flax for extra crunch, then chill or freeze. This real-food treat is chewy and crunchy, guilt-free, and very satisfying. Better than a candy bar! Enjoy!

deglet noor dates

sliced lengthwise on one side

almond butter

I prefer chunky and salted for this recipe

whole almonds

pecans work great too

unsweetened coconut flakes

Chia seeds

Flax seeds

dark chocolate mini chips

I used Lily's dark chocolate no sugar (stevia sweetened)
There are two main types of dates available in the U.S.--deglet noor, and medjool. I use deglet noor dates in this recipe because their consistency is firmer. Slice the date lengthwise on one side. With a knife, slather a bit of almond butter inside. Set an almond or pecan in the almond butter. Top with coconut flakes. Chill or freeze.
Disclaimer Policy: This website is intended to give general information and does not provide medical advice. This website does not create a doctor-patient relationship between you and Dr. John Day. If you have a medical problem, immediately contact your healthcare provider. Information on this website is not intended to diagnose or treat any condition. Dr. John Day is not responsible for any losses, damages or claims that may result from your medical decisions.
0 Comments