Jane Day
Jane Day is co-author with Dr. John Day of "The Longevity Plan," documenting their journey to China's Longevity Village. "Preparing food for guests has always been a stressful thing - feeling inadequate and fearing that the dishes wouldn't turn out. Posting recipes has been an exercise in the ultimate confrontation of this fear. Gratefully, the joy in figuring out how to make favorite dishes with healthier ingredients now exceeds the fear and I take courage in the idea that maybe I can help someone else do the same."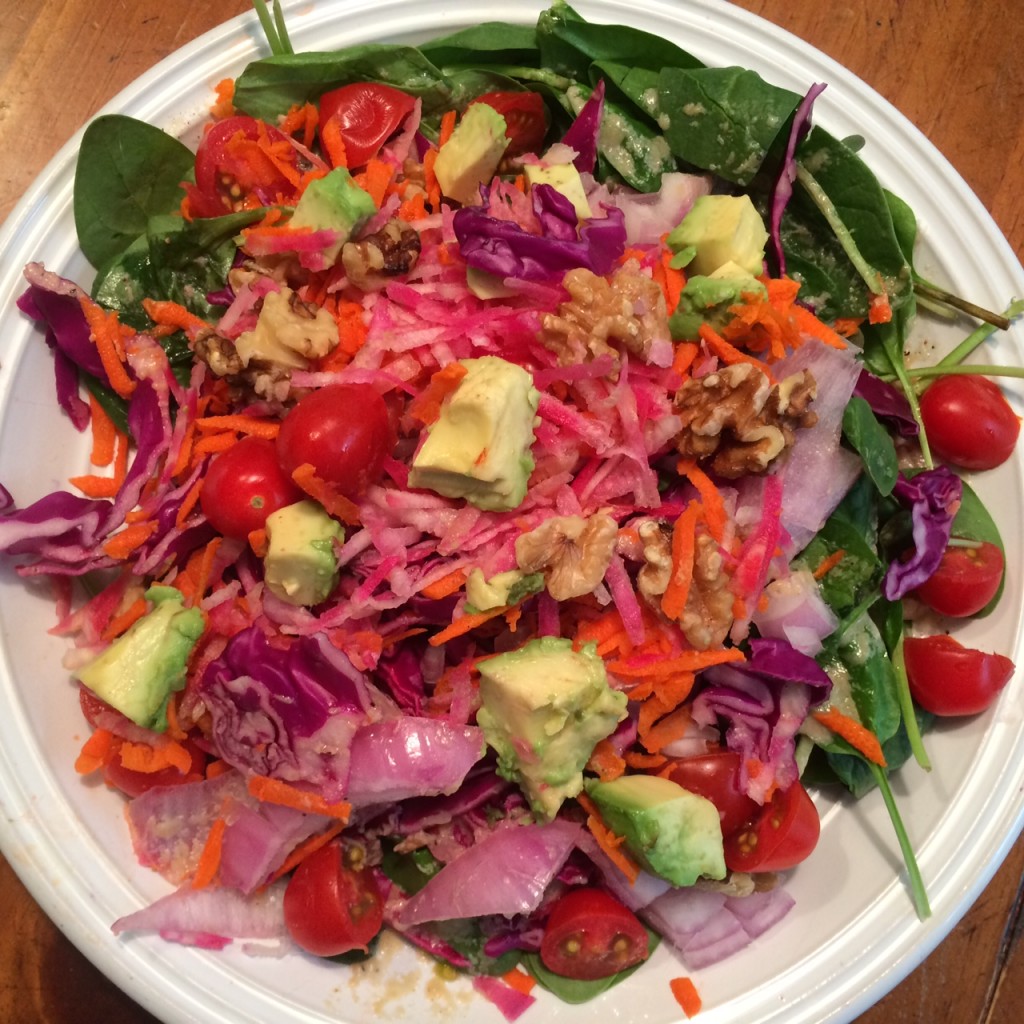 Beets are packed with nutrients such as vitamins A, B & C, potassium, magnesium, fiber, phosphorus, iron, beta-carotene, beta-cyanine and folic acid. Beets contain betaine and trytophan which can help alleviate depression and relax the mind.  Beets may also lower blood pressure, among other things.
I've always loved beets, but just discovered these awesome chiogga beets which are pink and white stripped.  I used to steam or roast my beets until I realized how easy it is to simply grate them raw. They are a bright, sweet, delicious addition to any salad.
Avocado, when added to a salad, up to quadruples the absorption of two key carotenoid antioxidants—lycopene and beta-carotene—over an otherwise avocado-free salad. Avocado oil also performs this magic.
Avocados contain phytosterols (beta-sitosterol, campesterol, and stigma sterol)  and polyhydroxylated fatty alcohols (PFAs) which provide anti-inflammatory benefits.
Avocados boast a high amount of a fatty acid called oleic acid which can increase our absorption of fat-soluble nutrients like carotenoids. They have also been shown to help lower our risk of heart disease.
Walnuts contain a high amount of an unusual type of vitamin E, which can help with heart health, among other things.
Walnuts offer a special anti-inflammatory, anti-oxidant phytonutrients that are unique to this nut.  These phytonutrients can help with metabolic syndrome, cardiovascular problems, and type 2 diabetes. They have also been shown to help reduce the risk of certain cancers.
You'll also enjoy and benefit from all of the other nutrients provided by the purple cabbage, spinach, red onion, carrot, and tomato in this salad.
Spinach

purple cabbage

shredded

Red onion

diced

carrot

grated

cherry tomatoes

halved

chiogga or other beets

grated

Avocado

chunked

Walnuts
Layer all ingredients onto plate in order listed. For carrots and beets, you can use a traditional cheese grater. I topped this salad with my Tarragon Tahini Dressing.

This is a picture of the chiogga beet peeled. I keep it in a bowl of water in the fridge to grate onto salads over several days.
Disclaimer Policy: This website is intended to give general information and does not provide medical advice. This website does not create a doctor-patient relationship between you and Dr. John Day. If you have a medical problem, immediately contact your healthcare provider. Information on this website is not intended to diagnose or treat any condition. Dr. John Day is not responsible for any losses, damages or claims that may result from your medical decisions.
2 Comments