Jane Day
Jane Day is co-author with Dr. John Day of "The Longevity Plan," documenting their journey to China's Longevity Village. "Preparing food for guests has always been a stressful thing - feeling inadequate and fearing that the dishes wouldn't turn out. Posting recipes has been an exercise in the ultimate confrontation of this fear. Gratefully, the joy in figuring out how to make favorite dishes with healthier ingredients now exceeds the fear and I take courage in the idea that maybe I can help someone else do the same."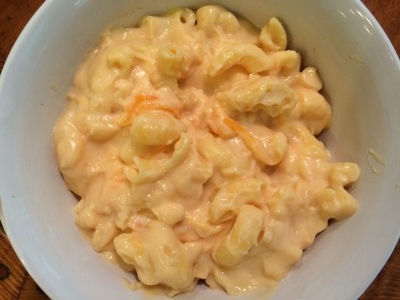 If you are looking for ways to offer vegetables to picky eaters, or want a delicious, healthy, creamy sauce for yourself, this recipe with blended, steamed cauliflower is for you.
One of my children calls the Mac 'n Cheese version: "Winner winner, noodle dinner."
I love making a batch of these creamy, healthy sauces for lots of easy and varied fast food dishes.
The basic sauce is great as an alfredo sauce.
It is delicious over Ezekiel sprouted grain pasta, beans, vegetables, etc..
It also serves nicely as a creamy soup base or even as a creamy soup all on its own.
It can be transformed into a variety of other sauces, including Mac 'n Cheese, Creamy Tomato Sauce, or Gravy by adding a few ingredients.
Basic No-Measure-Throw-Together Sauce:
Steamed Cauliflower (organic if possible–boil in pan of water until soft and sweet-what you taste here will translate in the sauce)
Organic Firm Tofu as desired
Organic Soy, Almond or Cow Milk to desired consistency
Kosher or Sea Salt to taste
Pepper if desired
Blend in blender until creamy.
Macaroni and Cheese Sauce:
To make a soft orange-hued sauce, steam a few carrot slices with the cauliflower and blend
Melt a little cheddar or other favorite cheese into the sauce in a pan on the stove, if desired
Pour over whole grain pasta. A favorite for Mac 'n Cheese is Ancient Grains Quinoa Elbows (pictured below and in main photo).
Creamy Tomato Sauce:
Blend in favorite tomato sauce or sautéed tomatoes
Gravy:
Add a dash of Bragg's Amino Acids
There are so many quick and healthy options with a batch of this sauce in the fridge all ready to go. Let us know what you create!
Disclaimer Policy: This website is intended to give general information and does not provide medical advice. This website does not create a doctor-patient relationship between you and Dr. John Day. If you have a medical problem, immediately contact your healthcare provider. Information on this website is not intended to diagnose or treat any condition. Dr. John Day is not responsible for any losses, damages or claims that may result from your medical decisions.
4 Comments