Jane Day
Jane Day is co-author with Dr. John Day of "The Longevity Plan," documenting their journey to China's Longevity Village. "Preparing food for guests has always been a stressful thing - feeling inadequate and fearing that the dishes wouldn't turn out. Posting recipes has been an exercise in the ultimate confrontation of this fear. Gratefully, the joy in figuring out how to make favorite dishes with healthier ingredients now exceeds the fear and I take courage in the idea that maybe I can help someone else do the same."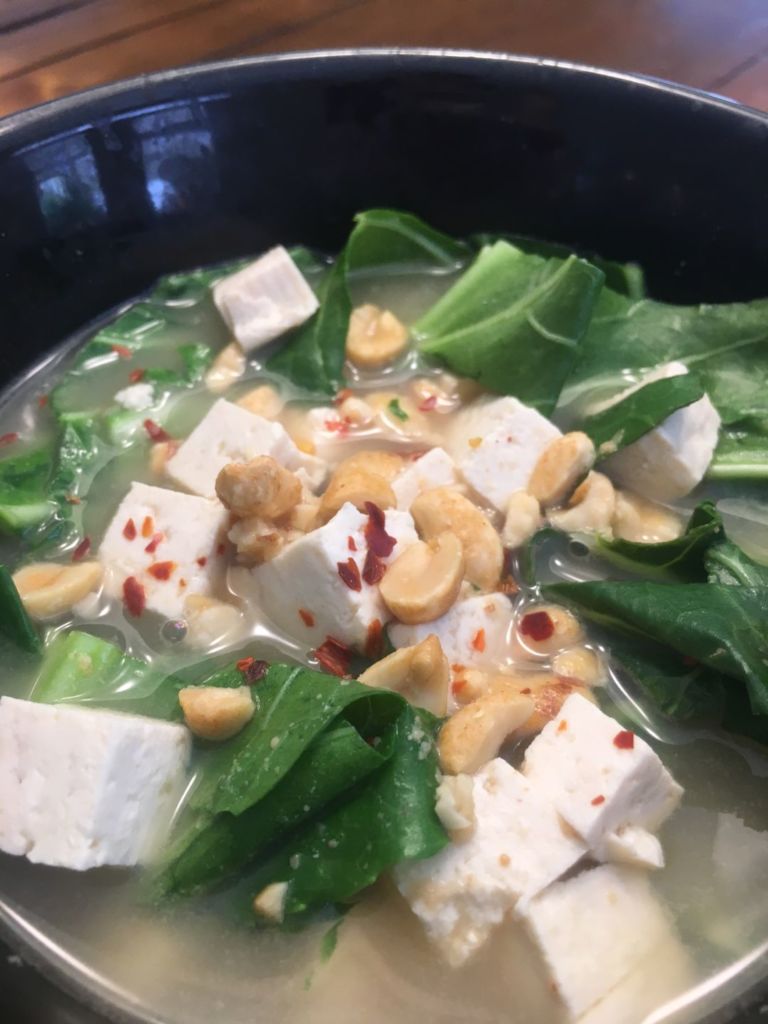 Collard greens! Interested in nutrients that support the body's detox system, antioxidant system, and inflammatory/anti-inflammatory system? Not sure how to prepare them? I wasn't. We were out of greens and I had just a few minutes to stop at a small local store.  The only greens available were collard greens, so I snatched them up.  When I got home, I stood there looking at them wondering what in the world to do with them. As I tried to imagine how I might most enjoy them, I decided to make a tasty broth of vegetable bouillon, aminos, rice vinegar, hot sauce, with a touch of peanut butter. I stirred in diced tofu and topped with crushed peanuts and chili flakes. It turned out to be a super fast and delicious way to enjoy these powerful greens. Go get some collard greens and give them a try!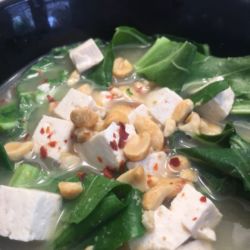 Servings

Prep Time

2

servings

5

minutes
Servings

Prep Time

2

servings

5

minutes
Servings

Prep Time

2

servings

5

minutes

Servings

Prep Time

2

servings

5

minutes
4

cups

water

1

cube

vegetable or chicken bouillon

or just use 4 cups of broth instead of the bouillon and water

1/4

cup

rice vinegar

2

tsp

Cholula Hot Sauce

or to taste (or favorite hot sauce to taste)

1/8

cup

peanut butter

2

tsp

Bragg's liquid amino acids or soy sauce

2

tightly packed cups

collard greens

sliced into 1/4"-1/2 inch strips. take washed bunch and cut perpendicular to the stem, working your way down the stem

1

14 oz package

Firm Tofu

diced into 1/4-1/2" cubes

crushed peanuts

red chili pepper flakes
Bring to a boil the water, bouillon, aminos, vinegar, hot sauce and peanut butter. Add collard greens and tofu and cook for 3-5 minutes. Do not overcook. Top with crushed peanuts and red chili pepper flakes.
Disclaimer Policy: This website is intended to give general information and does not provide medical advice. This website does not create a doctor-patient relationship between you and Dr. John Day. If you have a medical problem, immediately contact your healthcare provider. Information on this website is not intended to diagnose or treat any condition. Dr. John Day is not responsible for any losses, damages or claims that may result from your medical decisions.
0 Comments