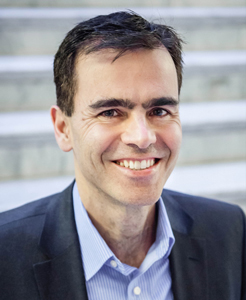 Dr. John Day
Dr. Day is a cardiologist/electrophysiologist at the Intermountain Medical Center Heart Institute in Salt Lake City, Utah. He graduated from Johns Hopkins Medical School and completed his residency and fellowships in cardiology and electrophysiology at Stanford University. He is the former president of the Heart Rhythm Society and currently serves as the president of the Utah chapter of the American College of Cardiology.
Podcast: Play in new window | Download
Subscribe: Apple Podcasts | Android | RSS
Your Diet Doesn't Have to Be Perfect to Be Healthy
What if you occasionally slip up and eat something you shouldn't?  Fortunately, a new study shows that your diet doesn't have to be perfect to be healthy.  In this article, I discuss this latest study and show what it means for you.
Mark's Experience
Mark appeared defeated at his last clinic visit.
"What's wrong?" I asked.
"I'm a failure.  I couldn't do what you asked me to do.  I just can't completely avoid soda pop and chips."
"Have you at least cut back?" I asked.
"Heavens yes.  But I'm not perfect," he said.
Guess what, your diet doesn't have to be perfect to be healthy.
The Less than Perfect Diet Study
Studies show that the Mediterranean Diet is one of the healthiest diets in the world.  Contrary to popular belief, the Mediterranean Diet is not an all you can eat pasta diet.  Rather, this way of eating is mostly vegetables, fruits, legumes, whole grains, and fish.
In this study, researchers evaluated 15,482 people with preexisting heart disease from 39 countries.  The study design was quite interesting.
Everyone was given a Mediterranean Diet score based on how closely their food choices stacked up to the perfect Mediterranean Diet.  Researchers then looked to see if their Mediterranean Diet score predicted whether or not they would suffer a heart attack, stroke, or premature death over the four years of the study.
To get a high Mediterranean Diet score in this study, participants had to eat a lot of vegetables, fruits, legumes, and fish.  In contrast, the more Western foods they ate, like red or processed meats, sugar, and processed foods, the lower their score.
As expected, those who most closely followed the Mediterranean Diet had the lowest risk of a heart attack, stroke, or premature death.  However, if you read the study closely, their diet didn't have to be perfect to enjoy this health benefit.  It just had to be mostly healthy.
Indeed, even in those people with preexisting heart disease, your diet doesn't have to be perfect to be healthy.
Take Home Message
The most important message from this study is that your diet doesn't have to be perfect to be healthy.  If you do occasionally give in and eat the whole box of Oreos, it is not the end of the world.
Rather than beating yourself up over the box of Oreos, let a bad day be good data.  Learn what went wrong so that you don't feel compelled to eat the whole box next time.
Be curious.  Learn what your triggers are.  Learn what works for you.
As long as you are mostly eating vegetables, fruits, legumes, whole grains, and fish you are eating a healthy diet.
How do you avoid beating yourself up over occasionally eating things you probably shouldn't eat?  Please leave your experiences below so that others may benefit.  As always, I will do my best to answer every question.
If you enjoyed this article, please share it with a friend.  Even better, sign up for my free weekly newsletter so that you never miss a thing!
Subscribe to Dr. Day's Weekly Newsletter
Disclaimer Policy: This website is intended to give general information and does not provide medical advice. This website does not create a doctor-patient relationship between you and Dr. John Day. If you have a medical problem, immediately contact your healthcare provider. Information on this website is not intended to diagnose or treat any condition. Dr. John Day is not responsible for any losses, damages or claims that may result from your medical decisions.
1 Comments