Jane Day
Jane Day is co-author with Dr. John Day of "The Longevity Plan," documenting their journey to China's Longevity Village. "Preparing food for guests has always been a stressful thing - feeling inadequate and fearing that the dishes wouldn't turn out. Posting recipes has been an exercise in the ultimate confrontation of this fear. Gratefully, the joy in figuring out how to make favorite dishes with healthier ingredients now exceeds the fear and I take courage in the idea that maybe I can help someone else do the same."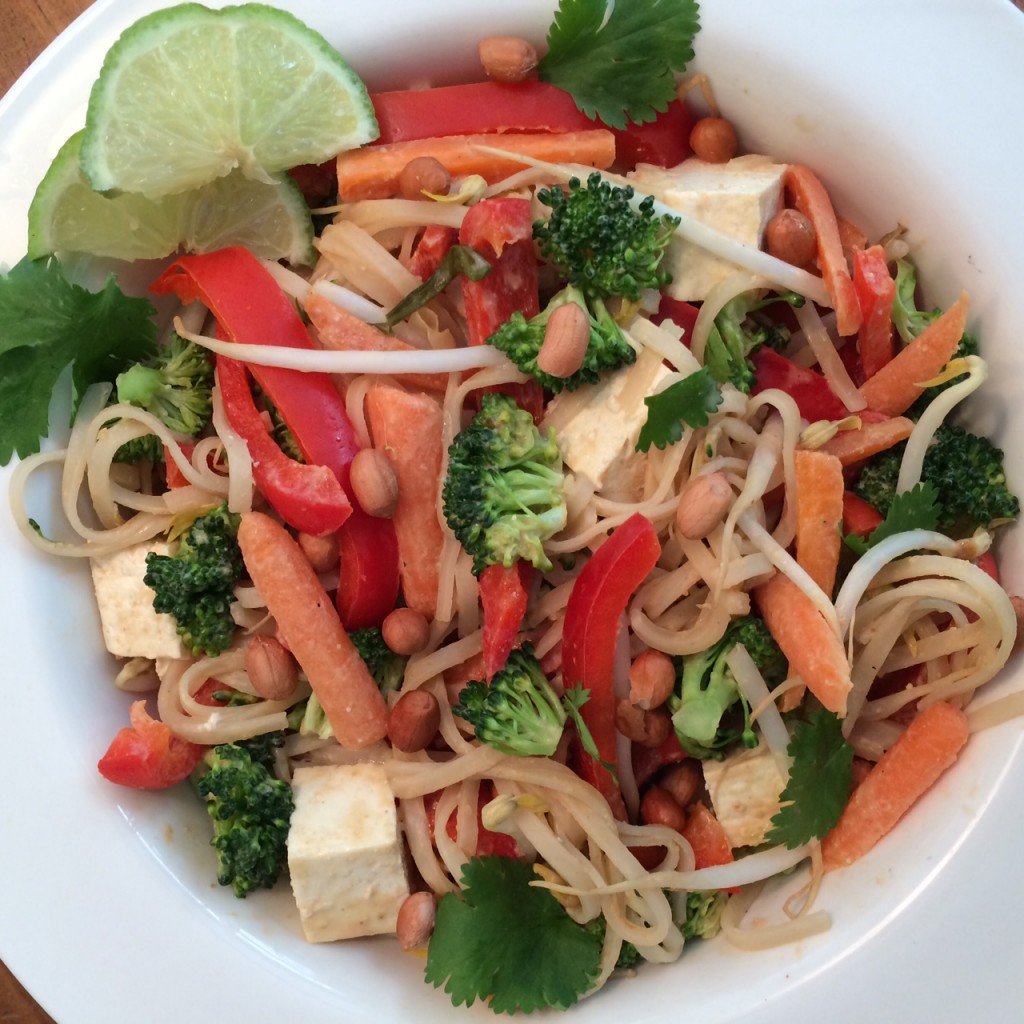 This Pad Thai is loaded with vegetables and drenched in a delicious and healthy peanut sauce. Enjoy!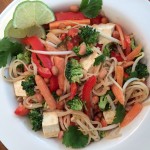 Servings

Prep Time

6

servings

15

minutes
Servings

Prep Time

6

servings

15

minutes
Servings

Prep Time

6

servings

15

minutes

Servings

Prep Time

6

servings

15

minutes
2

bunches

green onions

sliced

2-3

cups

carrots

sliced

2

red bell peppers

sliced

4

cups

broccoli

cut into 1 inch pieces

8

ounces

bean sprouts

14

ounces

Firm Tofu or cooked chicken

1" cubed

8

ounces

brown rice noodles

cooked al dente

1/2

cup

unsalted peanut butter

softened

1/2

cup

lime juice

1/3

cup

fish sauce

1/4

cup

rice vinegar

1

tablespoon

liquid aminos

1

cup

water

2-3

pinches

chili flakes

1

cup

peanuts

garnish, to taste

cilantro

garnish, to taste

lime wedges

garnish
Add noodles to pot of boiling water. Cook according to package directions. Drain, rinse, and set aside.
In bowl, whisk together peanut butter, lime juice, fish sauce, rice vinegar, liquid aminos, water and chili flakes.
Over medium heat, place half of sauce in wok or large frying pan. Add in order green onions (cook 3 or so minutes), carrots, tofu, red peppers, and broccoli. Cook 7 or so minutes until vegetables are cooked but still crisp. Add noodles, tofu or cooked chicken, and bean sprouts--cook until hot. Add more sauce, if desired. Serve with peanuts, cilantro and lime wedges.
Disclaimer Policy: This website is intended to give general information and does not provide medical advice. This website does not create a doctor-patient relationship between you and Dr. John Day. If you have a medical problem, immediately contact your healthcare provider. Information on this website is not intended to diagnose or treat any condition. Dr. John Day is not responsible for any losses, damages or claims that may result from your medical decisions.
1 Comments