Jane Day
Jane Day is co-author with Dr. John Day of "The Longevity Plan," documenting their journey to China's Longevity Village. "Preparing food for guests has always been a stressful thing - feeling inadequate and fearing that the dishes wouldn't turn out. Posting recipes has been an exercise in the ultimate confrontation of this fear. Gratefully, the joy in figuring out how to make favorite dishes with healthier ingredients now exceeds the fear and I take courage in the idea that maybe I can help someone else do the same."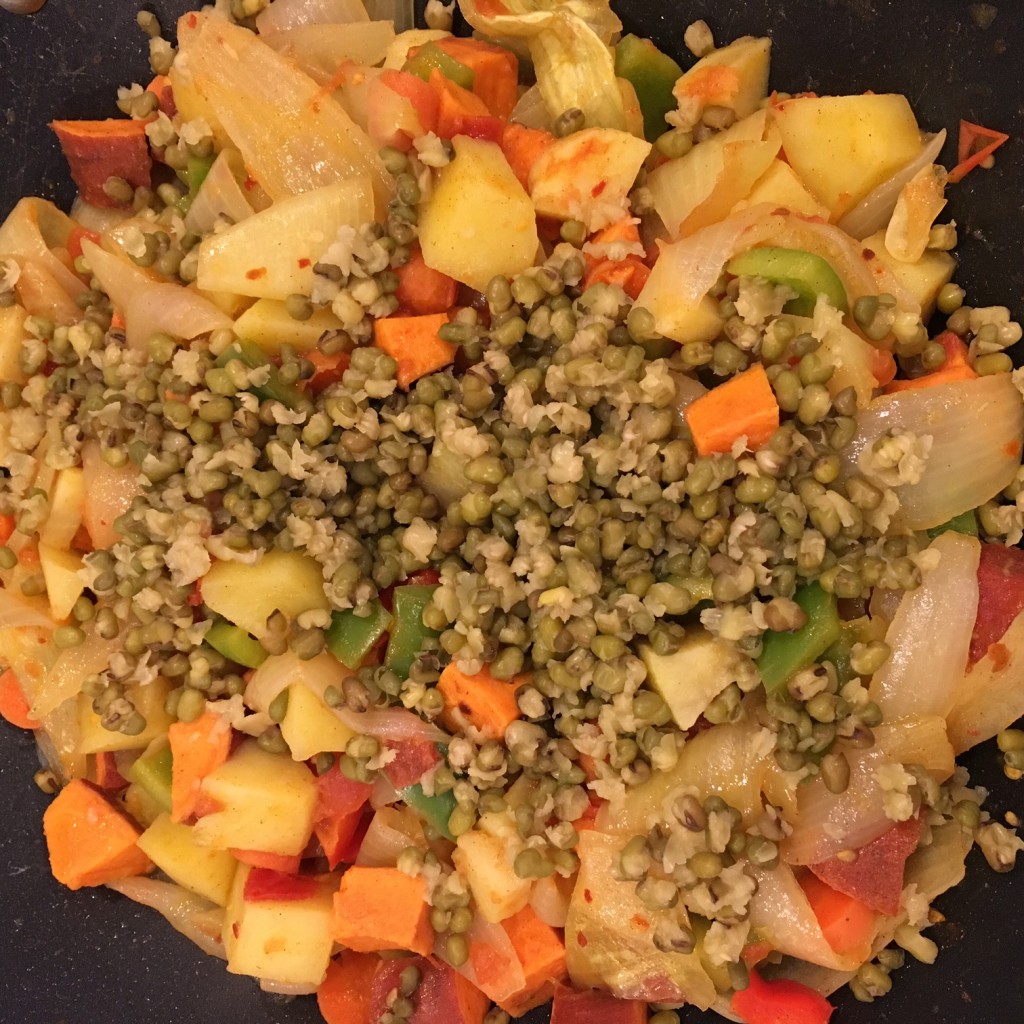 This warm potato dish has a kick to it with the lemon, balsamic, Chinese five spice, and red chili flakes. The small, soft mung beans–one of the healthiest you'll find–add a fantastic boost of phenol, protein, fiber and other nutrients which help defend against chronic age-related diseases including diabetes, cancer, obesity and cardiovascular disease. Serve this dish with brown rice, if desired. Enjoy!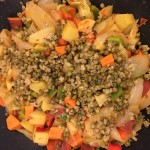 1

tbsp

olive oil

2

onions

sliced

4

sweet potatoes

diced about 1/2-1 inch

2

Golden Yukon Potato

diced about 1/2-1 inch

1

tomato

diced

1

carrot

sliced about 1/4 inch

1

red or green pepper

cut about 1/2-1 inch pieces

1

cup

dried mung beans

1

juiced lemon

can add more, if desired

1/4

cup

white balsamic vinegar

1/2

tsp

Chinese Five Spice blend

1/2

tsp

red chili flakes

or to taste--these add a big kick quickly

salt

to taste

1

cube

bouillon

I used "Not Chicken" vegetable bouillon

1

cup

dried mung beans

can be found in the bulk food section of Whole Foods and other grocers

2

tsp

corn starch

if desired

water
In a pot on the stove, boil 3 or so cups of water and add 1 cup rinsed mung beans. Cook for about 20-30 minutes until soft. I like them very well cooked to the point that they split apart.

In a wok or large pan on medium heat, add a drizzle of olive oil, onions and potatoes. Sautee for about 10 minutes, stirring occasionally. Add tomato and carrot and about 1/4 cup water. Cook about 10 more minutes. Add red or green pepper, bouillon, lemon juice, vinegar, Chinese five spice, red chili flakes and salt and cook about 10 more minutes. Mix cornstarch in a little cool water, then add to dish while cooking on stove to thicken sauce, if desired.
Disclaimer Policy: This website is intended to give general information and does not provide medical advice. This website does not create a doctor-patient relationship between you and Dr. John Day. If you have a medical problem, immediately contact your healthcare provider. Information on this website is not intended to diagnose or treat any condition. Dr. John Day is not responsible for any losses, damages or claims that may result from your medical decisions.
0 Comments