Jane Day
Jane Day is co-author with Dr. John Day of "The Longevity Plan," documenting their journey to China's Longevity Village. "Preparing food for guests has always been a stressful thing - feeling inadequate and fearing that the dishes wouldn't turn out. Posting recipes has been an exercise in the ultimate confrontation of this fear. Gratefully, the joy in figuring out how to make favorite dishes with healthier ingredients now exceeds the fear and I take courage in the idea that maybe I can help someone else do the same."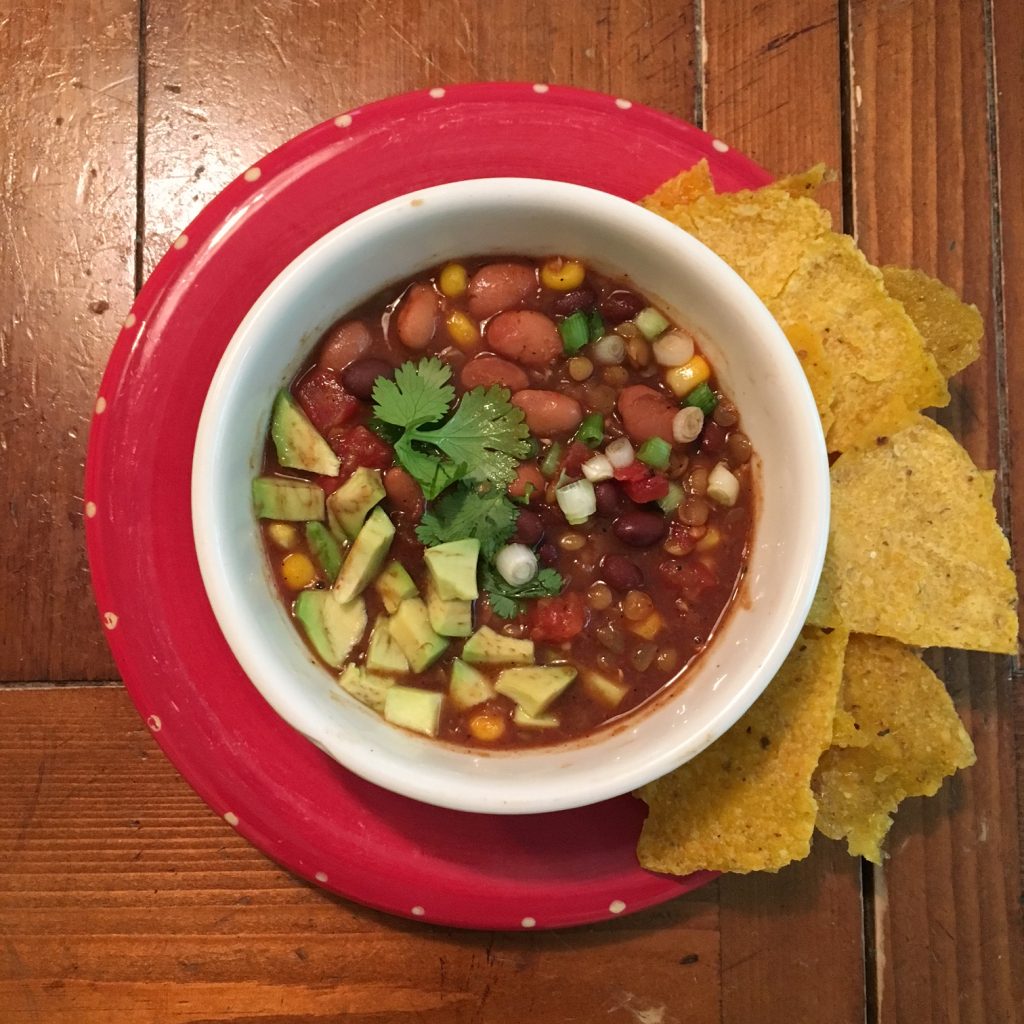 This recipe is inspired by the delicious soup our friend Liz Warner made for our family last week. It is quick and easy to make and can stand alone as a flavorful and hearty vegetarian main dish. We've paired it with Ezekiel sprouted corn tortillas, toasted and cut into chips for dipping. Enjoy!

4

cups

cooked lentils

simmer in water on stove 40 minutes or until soft; precooked lentils also available at many stores including Trader Joes or Costco

2

cans

pinto beans

with liquid

2

cans

black beans

with liquid

2

cans

diced tomatoes

with juice, use fire roasted tomatoes for extra kick

1

10 oz pkg

frozen corn

or 4 ears cooked and cut

3

tbsp

taco seasoning

check package to make sure you approve of all ingredients or blend your own chili pepper, paprika, garlic powder, onion powder, coriander, cumin, cayenne

1

tbsp

madras curry powder or regular curry powder

1/4

cup

white balsamic vinegar

salt

to taste

pepper

to taste

1

lime, juiced

green onions

sliced

fresh cilantro

Avocado

diced
Combine all ingredients except last four in large pot on stove and heat to boiling. Add water if needed. Stir in lime juice. Top with sliced green onion, cilantro and avocado. The key to making this a quick dish is to use pre-cooked lentils. Lentils are very easy to cook--just rinse and simmer in water (ratio 1 cup lentils to about 2 1/2 or more cups water) about 40 minutes or until soft. Lentils store in the fridge for several days and are great on salads, in soups, wraps, etc.
Disclaimer Policy: This website is intended to give general information and does not provide medical advice. This website does not create a doctor-patient relationship between you and Dr. John Day. If you have a medical problem, immediately contact your healthcare provider. Information on this website is not intended to diagnose or treat any condition. Dr. John Day is not responsible for any losses, damages or claims that may result from your medical decisions.
2 Comments