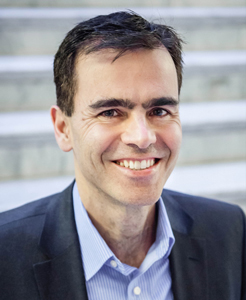 Dr. John Day
Dr. Day is a cardiologist/electrophysiologist at the Intermountain Medical Center Heart Institute in Salt Lake City, Utah. He graduated from Johns Hopkins Medical School and completed his residency and fellowships in cardiology and electrophysiology at Stanford University. He is the former president of the Heart Rhythm Society and currently serves as the president of the Utah chapter of the American College of Cardiology.
Podcast: Play in new window | Download
Subscribe: Apple Podcasts | Android | RSS
The 2 Secrets to Making Exercise a Daily Habit
Most people don't really enjoy their workout.  Perhaps that explains why so many people never get their money's worth with the gym membership.  In this article, I share the two secrets to making exercise a daily habit.
Why Exercise?
If your reason for exercising is to burn calories, build muscle or even improve your cardiovascular health, then chances are really good that you're doing exercises that you don't really enjoy all that much. And if that's the case, then you're missing out on one of the healthiest effects of exercise.
Exercise isn't just for physical health. It's also critical for optimal brain function — it's vital "brain food." But because most of us only think of the physical impact, we miss out on a good part of this benefit.
The Best Exercise
Exercise of any sort — but especially exercise we really enjoy — has been shown in studies to be as effective as pharmaceuticals for many people suffering from depression. Exercise we enjoy can also boost our memory, increase our brain processing speed, improve our concentration, reduce our stress, and help free us from addictions. Yet ask most people why they are exercising, and they'll tell you it is because they're trying to be physically healthy.
Tip: Only Exercise in Ways that You Love
I frequently have patients ask me what kind of exercise they should be doing. To be certain there are better and worse forms of exercise for any given person, but the starting point for anyone should be: Make it enjoyable and convenient.  These are the two secrets to making exercise a daily habit.
Do What You Love
If you don't enjoy it, after all, you're probably not going to do it. You'll have no trouble at all finding an excuse not to go to the gym, or not to run that extra lap, or not to make the walk on a cold winter morning to the local community pool.
Make it Convenient
Likewise, even if you love the gym, if it is 20 minutes from your house you probably won't go there as often as you should. Most people don't have an extra 40 minutes in their day to make that sort of round trip drive.
The Benefits
When we choose to exercise in ways that we love, the effects are essentially turbo-charged, because we're getting the mental and physical health boost that any exercise offers, plus we feel the benefits of anticipation beforehand, feel happy during the exercise itself, and feel content after we're done. All of that means we're far more likely to exercise regularly and to continue doing so for a long time to come.
Making Exercise a Daily Habit
That's why I tell my patients not to worry if their idea of enjoyable exercise isn't physically akin to spending the morning at a CrossFit gym (although there are plenty of people out there who enjoy nothing more than AMRAPing at their local box — and that's awesome.) But if you love nothing more than taking a daily stroll around the park, or taking a leisurely bike ride along the local riverfront, then those are the exercises that are right for you. As long as it is also convenient, it will be easy to keep that exercise habit for life.
How do get your daily exercise?  Please leave your thoughts and question below.  I'll do my best to answer everything within 24 hours.
Did you enjoy this article?  Please be sure to sign up for my free weekly newsletter and podcast to make sure you never miss a thing!
Subscribe to Dr. Day's Weekly Newsletter
Disclaimer Policy: This website is intended to give general information and does not provide medical advice. This website does not create a doctor-patient relationship between you and Dr. John Day. If you have a medical problem, immediately contact your healthcare provider. Information on this website is not intended to diagnose or treat any condition. Dr. John Day is not responsible for any losses, damages or claims that may result from your medical decisions.
10 Comments