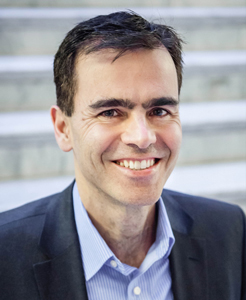 Dr. John Day
Dr. Day is a cardiologist/electrophysiologist at the Intermountain Medical Center Heart Institute in Salt Lake City, Utah. He graduated from Johns Hopkins Medical School and completed his residency and fellowships in cardiology and electrophysiology at Stanford University. He is the former president of the Heart Rhythm Society and currently serves as the president of the Utah chapter of the American College of Cardiology.

Podcast: Play in new window | Download

Subscribe: Apple Podcasts | Android | RSS
The 6 Best Ways to Reverse Your Biological Age
I think you would agree with me that no one wants to have their body age prematurely.  By just making a few simple lifestyle changes you can instantly turn the aging clock back 10 years or more.  In this article I'm going to teach you the six very best ways to reverse your biological age.
My Premature Aging Experience
The day after my 40th birthday I lost grip strength in my right hand.  As a cardiologist who performs surgery, that was not good.  Not only was the grip strength in my right hand shot, but I also couldn't turn my neck without excruciating pain.
Rather than see a doctor, I decided to order my own neck x-ray.  Minutes after getting the neck x-ray done, my radiologist colleague called me.
"John, I can't believe this is your x-ray.  You have severe degenerative disk disease.  It looks like you have the neck of a 60 or 70 year old," he said.
A follow up MRI of my neck wasn't any better.  After reviewing the MRI with an orthopedic colleague he said, "you will definitely need your neck operated on in the next five years."
I was aging way too fast.  Aren't we all aging too fast?  While we can't control our chronologic age, is there anything we can do to reverse our biologic age?  In this article, I will share with you six ways to reverse your biological age.
Chronological vs. Biological Age
Our chronological age is how many years we have lived on this Earth.  In contrast, our biological age is how fast our body is aging.  How fast we age, for the most part, is completely up to us.
When taken to the extreme, we have all seen the 40 year old smoker who looks like she is in her mid-50s.  Indeed, studies show that on a cellular level, smoking two packs per day for 30 years prematurely age you by more than 10 years!
This "premature aging" is not just on the outside.  It is inside as well.  I see this everyday when I am doing surgeries.  Even though a patient may be 82 years old (chronological age), when you look inside at the time of surgery, their biological age may only be 72.
It is not just smoking that prematurely ages us.  A poor diet, lack of exercise, sleep deprivation, stress, and loneliness all age us prematurely as well.
How To Determine Your Biological Age
As I am writing this article, I decided to take the Real Age Test to get an idea of what my biological age is.  After answering the 170+ questions, my biological age came back at 39, or 9 years younger than my chronologic age of 48.
Whether or not my biological age is really 9 years younger than my chronological age is up for debate.  I must admit that I do feel much younger now than I did at the age of 40 when I was having neck problems.  The complete lifestyle transformation I made in my mid-40s has definitely made me feel much younger.
Of course, whether or not you believe this test, that over 27 million people have already taken, is a completely different issue.  It can be a very insightful exercise into what is prematurely aging you.
If you do choose to take the Real Age Test, you may want to opt out of everything otherwise they will sell your information to pharmaceutical and other health related companies for targeted advertising.  Their only recommendation for me to be biologically even younger, was to take an aspirin daily.  However, based on recent medical studies, there really is no scientifically proven reason for me to start taking an aspirin.
Telomeres: Our Biological Clock
Telomeres are the caps on the ends of our chromosomes or DNA strands.  They are like the tips of shoelaces.  Without these plastic tips on the ends of our shoelaces, the shoelaces quickly start unravelling.  The same is true of our DNA.
As we age our telomeres gradually get shorter and shorter.  This is like the sand in the hourglass ticking away the years of our lives.  When our telomeres get too short our DNA is no longer protected.  Thus, when cells divide, errors will be made causing cancer and other chronic medical conditions.  Eventually, our telomeres get too short to maintain life.
Fortunately, there are things we can do now to lengthen our telomeres and reverse aging at the cellular level.  By making these changes now, we can reverse our biological age and dramatically slow the overall aging process.   We can start growing younger today!
Telomere Length in China's Longevity Village
As you know, my wife and I have led a research team investigating the health and longevity miracle of China's Longevity Village.  Our experiences and the lessons learned were all described in our 2017 best selling book, The Longevity Plan.
As telomeres represent our own internal biologic clock, we were very interested in the telomere length of the people living in China's Longevity Village.  As might be expected, many studies have shown that these people, with their exceptionally healthy lifestyles, have a very slow loss of telomere length.  Perhaps this explains the unusual longevity and lack of cardiovascular disease, cancer, and other conditions seen in the Village.
6 Ways to Reverse Your Biological Age
1. Manage Stress to Shave 10 Years Off Your Telomeres
In a very interesting study, Dr. Elissa S. Epel from the University of California at San Francisco and colleagues determined that those who perceived they were under the most stress for the longest periods of time, prematurely aged their telomeres by about 10 years.  Fortunately, in a separate study, she showed that mindfulness and meditation could reverse this premature aging effect to telomeres.  While we cannot avoid stress, we can change how we perceive stress and we can block the effects of stress on our telomeres through mindfulness, meditation, etc.
2. Exercise To Take 10 Years of Your Telomeres
In a similar study, Dr. Lynn F. Cherkas from King's College in London showed that in 2,401 twins that regular exercising slowed telomere aging by about 10 years when compared to their non-exercising twin.  The message here is clear, exercise can reverse or slow the aging process.
3. Eat a Healthy Diet To Reverse Telomere Aging By 5 Years
Many studies have shown that a healthy diet can reverse or slow telomere aging.  In particular, diets high in vegetables, fruits, fish, nuts, seeds, and legumes can protect our telomeres from shortening.  Sugar, processed foods, and processed meats have the opposite effect to our telomeres.  Eat right to stay young!
4. Maintain an Ideal Weight To Lengthen Telomeres By 9 Years
Being overweight is another cause of premature aging.  Carrying excessive weight causes oxidative stress, or "rusting," to our cells resulting in telomere shortening and premature aging.  Studies show that maintaining an ideal body weight can lengthen our telomeres by 9 years.
5. Sleep At Least 7 Hours To Reverse Telomere Old Age
Sleep is when our bodies go into repair mode.  We need this repair process functioning optimally if we want to reverse our biologic age and "grow younger."
In a fascinating study, researchers found that older people sleeping at least 7 hours had the telomeres of middle aged people. In other words, at the cellular level, you can completely reverse telomere "old age" with at least seven hours of restorative sleep each night.
6. Avoid Loneliness for Optimal Telomere Health
Social isolation, or feeling lonely, is not only a powerful predictor of heart disease but telomere shortening as well.  In this study, social connection was shown to be an additional way to keep our telomeres long.  Thus, if you want to slow the aging process, stay connected to your friends and family every day.
Bringing It Home
It has now been nearly 11 years since my neck x-ray and MRI.  I have 100% of my grip strength and my neck feels great.  I have no pain.  I never did need the spine surgery my orthopedic colleague promised me that I would require.
The take home message of this article is that the simple lifestyle decisions we make every day determine whether or not our bodies age fast or slow.  For those with "high mileage" bodies, you can quickly shave ten or more years off your biological age.  For those wishing to stay "forever young," the six steps outlined in this article is your road map.
Subscribe to Dr. Day's Weekly Newsletter
Disclaimer Policy: This website is intended to give general information and does not provide medical advice. This website does not create a doctor-patient relationship between you and Dr. John Day. If you have a medical problem, immediately contact your healthcare provider. Information on this website is not intended to diagnose or treat any condition. Dr. John Day is not responsible for any losses, damages or claims that may result from your medical decisions.
7 Comments