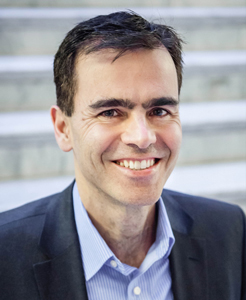 Dr. John Day
Dr. Day is a cardiologist/electrophysiologist at the Intermountain Medical Center Heart Institute in Salt Lake City, Utah. He graduated from Johns Hopkins Medical School and completed his residency and fellowships in cardiology and electrophysiology at Stanford University. He is the former president of the Heart Rhythm Society and currently serves as the president of the Utah chapter of the American College of Cardiology.
Podcast: Play in new window | Download
Subscribe: Apple Podcasts | Android | RSS
4 Best Superfoods for Weight Loss
What are the best superfoods for weight loss?  In this article, I share the four best superfoods for weight loss and disease prevention according to the latest scientific studies.
My Slow Adoption of Superfoods
I didn't use to eat superfoods.  I guess that deep down I didn't really believe that these foods had the ability to heal.  I thought superfoods were really just a marketing gimmick to sell grocery store checkout magazines.
However, by the time my mid-40s rolled around, I was overweight, had a long list of medical conditions, and was taking a number of prescription medications.
Clearly, something had to change.  At that time, I definitely needed the best superfoods for weight loss and to reverse medical conditions.
4 Best Superfoods for Weight Loss
After countless hours of research, and many life experiences later, I landed on these four superfoods that I eat regularly to stay healthy and maintain a weight that works for me.
1. Berries
Want to drop your heart attack risk by 34%?  According to a recent Harvard study of 93,600 people, all it takes is three servings of berries each week.
When it comes to vitamin C, and other antioxidants, berries top the list for fruits.  Antioxidants block the day-to-day free radical damage which causes aging, heart disease, and dementia.  To maximize the antioxidants in your produce, studies show that buying organic and as fresh as possible is best
Berries are also very low glycemic.  This means that even though they taste sweet, they don't spike your blood sugar.  As a low glycemic fruit, it can help to prevent diabetes.
Lastly, when it comes to weight loss, berries are your very best fruit.  They are low in calories and high in fiber.  Indeed, another Harvard study of 133,468 Americans showed that for every daily serving of berries participants averaged during the study, they lost 1.11 pounds.
I am often asked which berries are best.  The best berry is the one you will eat.  So whether it is a blueberry, strawberry, raspberry, etc., enjoy your berries as they are all good for you.  Berries are definitely one of the best superfoods for weight loss.
2. Nuts
It wasn't long ago that people avoided nuts because of the fat.  Yes, nuts are high in fat, but it is exactly the fat your body needs.  In fact, this fat appears to protect you from a heart attack.
Indeed, based on many studies, nuts decrease your risk of dying from heart disease by 37%.  These studies also show that the more nuts you eat, the lower your risk of heart disease.  Likewise, as I discussed in a previous article, studies show that nuts also prevent autoimmune disease, cancer, high blood pressure, diabetes, and high cholesterol.
But won't all of this fat cause weight gain?  Not according to a large Harvard study.  In this study, nut eaters, regardless of how many nuts they ate, still lost a pound of fat even though they weren't even trying to lose weight.
As with berries, it really doesn't matter which nut you eat.  While there are some differences between nuts, as I described in a popular previous article I wrote on Almonds vs. Walnuts, they are all good for you.
3. Cruciferous Vegetables (Cauliflower/Broccoli/Kale)
Nutritionally, you can't beat the cruciferous family of vegetables.  This family includes cauliflower, broccoli, kale, cabbage, Brussels sprouts, bok chop, and arugula.  Indeed, you simply can't find another food group that is so packed with vitamins, minerals, fiber, omega 3 fats, and protein.
While you likely would never consider cauliflower, broccoli, or kale as great sources of omega 3 fat and protein, they actually are.  Calorie for calorie, the cruciferous vegetables have as much omega 3 as salmon and almost as much protein as chicken.
When it comes to disease prevention, cruciferous vegetables top the list.  For example, regularly eating cruciferous vegetables may decrease your heart attack risk by 34%.  Also, regardless of the cancer type, cruciferous vegetables appear to decrease all cancers by about 20%.
For weight loss, cauliflower is very best vegetable.  Indeed, a Harvard study showed that cauliflower eaters lost a total of 1.37 pounds for each daily serving they averaged during the study.  While broccoli wasn't quite as effective as cauliflower for weight loss, it wasn't far behind.
I should point out that there is an Internet myth that cruciferous vegetables cause goiters and other thyroid issues.  When examined in a study, cruciferous vegetables do not cause thyroid problems.  In fact, when it comes to thyroid cancer, cruciferous vegetables appear to be very effective in preventing this cancer as well.
4. Fish
When it comes to optimizing brain and heart function, studies show that fish is your best meat.  For example, a recent study of 181,580 people showed that for every one serving of fish you eat each week, you can cut your risk of Alzheimer's disease by 7%.
For heart disease prevention, it is a similar story.  Even eating just one serving of fish weekly may decrease your risk of heart disease by 15%.
If you are trying to maintain a healthy weight, fish is also your best meat.  While red and processed meats have been associated with intense weight gain in studies, adding fish to your weight loss efforts has been shown to boost weight loss by 14%.
Take Home Message
The main message of this article is that to prevent disease and maintain a healthy weight, shoot for at least one serving of berries, nuts, and cruciferous vegetables each day.  For those who choose to eat meat, fish is your best meat.
Try to eat at least one serving of fish weekly.  Always select a fish low in contaminants.  To learn more about which fish are best, here is a link to an article I wrote.
Of course, for optimal health, you'll want to include many other fruits and vegetables outside of the berry and cruciferous families.  To make sure you get all the nutrients your body needs, make sure your produce includes all the colors.  Likewise, peanuts and seeds seem to offer the same health benefits as nuts.
What superfoods do you eat everyday?  How do you prepare your superfoods?
Please leave your comments and questions below.  I'll do my best to quickly respond to each question.  Also, if you have enjoyed this article, please be sure to sign up for my free weekly newsletter so that you never miss a thing.
Subscribe to Dr. Day's Weekly Newsletter
Disclaimer Policy: This website is intended to give general information and does not provide medical advice. This website does not create a doctor-patient relationship between you and Dr. John Day. If you have a medical problem, immediately contact your healthcare provider. Information on this website is not intended to diagnose or treat any condition. Dr. John Day is not responsible for any losses, damages or claims that may result from your medical decisions.
8 Comments