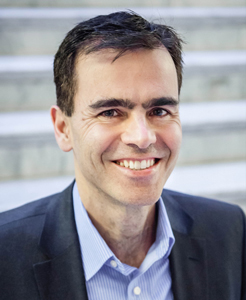 Dr. John Day
Dr. Day is a cardiologist/electrophysiologist at the Intermountain Medical Center Heart Institute in Salt Lake City, Utah. He graduated from Johns Hopkins Medical School and completed his residency and fellowships in cardiology and electrophysiology at Stanford University. He is the former president of the Heart Rhythm Society and currently serves as the president of the Utah chapter of the American College of Cardiology.
Podcast: Play in new window | Download
Subscribe: Apple Podcasts | Android | RSS
Defy Your Age and Actually Live Longer
Can you defy your age and think yourself younger?  A recent study showed that you really are only as old physically as you think you are.  Read on to learn how to defy your age and live younger and longer.
Lisa's Experience
At 42, Lisa felt old.  Perhaps it was because she was struggling with the fact that she was now a grandma.
Her joints hurt. Her blood pressure was up.  She didn't even feel like exercising anymore.
When Lisa came to see me, she really did look much older than her actual age.  Like many people, she was aging way too fast.
She had also developed a heart condition called atrial fibrillation.  Atrial fibrillation is generally something that doesn't start until people are in their 60s or 70s.
In addition to the typical treatment plan for atrial fibrillation, I encouraged Lisa to act younger.
"But I don't feel young!" she protested.
"Try it anyway and let me know how it goes," I said.
"Okay," she said as she left my office.
At our next visit, she was a changed person.  Her atrial fibrillation, arthritis, and high blood pressure were mostly gone.  She was even exercising again.
"What happened," I asked.
"I took your advice and starting acting younger.  I love my long walks and my grandson is the best thing that ever happened to me," she said.
Could something like this really happen?  Yes, according to a recent study.
Defy Your Age and Live Longer Study
In this study, researchers wanted to see if there was any link to feeling old versus being old.  After following 6,489 people for eight years here is what they found.
Those who felt younger than their actual age were 72% more likely to be alive eight years later!  Indeed, studies of centenarians show that most centenarians feel about 20 years younger than they actually are.
How do you explain the findings of this study?
There are a number of possible reasons why thinking you are young could help to slow the aging process.  For example, people who feel younger are more likely to be physically active.
It is also possible that those who feel young may eat healthier, engage in more social activities, or look more to help others.  Further studies are definitely needed to better understand how your thoughts may speed up or slow down the physical aging process.
Key Message of this Study
The key message of this study is that when it comes to aging, your thoughts may become your reality.  If you feel younger than you really are, your body may just behave accordingly.
The Challenge
My challenge to you is that even if you no longer feel "young," try thinking you are young again.  Defy your age.  Try it for at least a week and let me know how it goes.
First, never say the "old" word.  If anyone asks you how you are feeling, tell them you feel young and energetic.  You could also respond, "never better."
Next, don't complain about any of your health challenges.  Instead, tell yourself and others that you haven't felt this good since age 20 or 30.
Last, do what young people do.  Make sure you are doing something physically active every day.  Take your spouse, significant other, or a friend out this weekend.  Go to a concert or go dancing.
Do you feel young at heart?  If so, please leave your comments below so that others may benefit.  As always, I'll do my best to answer any questions left below.
Subscribe to Dr. Day's Weekly Newsletter
Disclaimer Policy: This website is intended to give general information and does not provide medical advice. This website does not create a doctor-patient relationship between you and Dr. John Day. If you have a medical problem, immediately contact your healthcare provider. Information on this website is not intended to diagnose or treat any condition. Dr. John Day is not responsible for any losses, damages or claims that may result from your medical decisions.
6 Comments