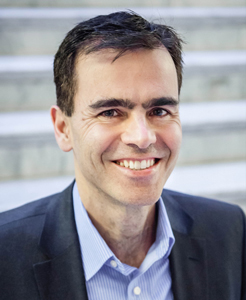 Dr. John Day
Dr. Day is a cardiologist/electrophysiologist at the Intermountain Medical Center Heart Institute in Salt Lake City, Utah. He graduated from Johns Hopkins Medical School and completed his residency and fellowships in cardiology and electrophysiology at Stanford University. He is the former president of the Heart Rhythm Society and currently serves as the president of the Utah chapter of the American College of Cardiology.
Podcast: Play in new window | Download
Subscribe: Apple Podcasts | Android | RSS
How to Eliminate Holiday Season Stress
Two in three Americans report holiday season stress, fatigue, and irritability according to the American Psychological Association.  This stress may increase your risk of a heart attack by 73% according to a recent study.  In this article, I share the one simple thing from a recent study that can completely eliminate holiday season stress for you.
How to Eliminate Stress Study
In this study, Dr. Michael J. Poulin and colleagues from the University of California, Irvine, studied 846 people living in the Detroit, Michigan area.  Knowing that stress is associated with heart attacks and premature death, Dr. Poulin and his team wanted to see whether helping others could reverse the life threatening risks of stress.
To answer this question, each person in the study underwent an interview in the late 1980s to determine how stressful their lives were, their health problems, and how much time they spent helping others.  Dr. Poulin and colleagues then checked in with study participants every five years.
As they followed these people over time, they found that those who lived stressful lives were 30% more likely to die a premature death.  Quite remarkably, those who reported helping others were not only spared a premature death but actually lived longer.
Does helping others really allow you to live longer?
This study raises the question, will helping others negate stress and allow you to live longer?  Interestingly, medical studies consistently show that social connectedness, helping others, and volunteering improve health and longevity.  In fact, these studies have such striking results that there is a term to describe this phenomenon–the volunteer effect.
It is still unclear exactly how those who help others live healthier and longer lives.  One theory is that helping others requires physical activity.  As all readers know, the more physically active you are the healthier you will be.
Another theory is that people who help others are more socially connected.  Social connection reduces stress hormones and protects the heart.  Keeping stress hormones low may explain why studies show that people who help others are less likely to develop high blood pressure.
Lastly, helping others may allow you to live longer because people who help others are more likely to be happy.  Indeed, studies show that happiness may also add years to your life.
7 Ways to Eliminate Holiday Season Stress
Here are my seven best ways to beat holiday season stress.  By doing these seven things, your heart will definitely thank you.  In fact, you may even find that you enjoy it so much that you keep it up year round.
1. Adopt a Family
Find a family you can help.  It could even be anonymously.  To find a family in need, speak with your local minister, priest, or bishop.
2. Write a Letter/Email
Everyone loves a heart felt letter.  Write a letter/email to a family member, neighbor, or a coworker.  Share with them how much you appreciate them in your life.
3. Donate Your Stuff
The holidays are a great time to find a loving home for the stuff you aren't using.  Those old gloves, coat, or clothes could really bless the life of someone in need.
4. Caroling
Get together with some neighbors or coworkers and go caroling.  This could be in your neighborhood or even at a local nursing home.  Caroling is a great way to get out, get a little physical activity, and connect with others.
5. Share a Healthy Treat
Make something healthy and share it with your neighbors or coworkers.  As most people just share sugar laden treats this time of the year, a healthy treat would be a welcome reprieve.
6. Invite Someone Over
Many people don't have anywhere to go during the holidays.  Invite them over to share in the holiday joy with your family.
7. Visit People or Animals in Need
Try visiting a nursing home or a homeless shelter.  If you have children, this could be a great life lesson.  If you are an animal lover, go to your local humane society or animal shelter and spend some time with a lonely dog or cat.
Take Home Message
While most Americans are stressed out through the holidays, it doesn't have to be this way for you.  You can completely eliminate holiday season stress by simply helping others.  Even better, helping others has been shown to give you more years of life and improve whatever health struggles you may have.
What are you doing to help others this holiday season?  Please leave your thoughts, experiences, and questions below.  I'll do my best to answer every question.
If you liked this article, be sure to sign up for my free weekly newsletter and podcast.
Subscribe to Dr. Day's Weekly Newsletter
Disclaimer Policy: This website is intended to give general information and does not provide medical advice. This website does not create a doctor-patient relationship between you and Dr. John Day. If you have a medical problem, immediately contact your healthcare provider. Information on this website is not intended to diagnose or treat any condition. Dr. John Day is not responsible for any losses, damages or claims that may result from your medical decisions.
0 Comments