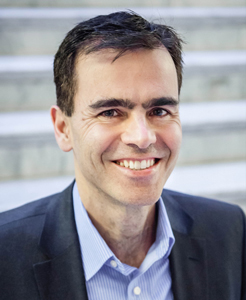 Dr. John Day
Dr. Day is a cardiologist/electrophysiologist at the Intermountain Medical Center Heart Institute in Salt Lake City, Utah. He graduated from Johns Hopkins Medical School and completed his residency and fellowships in cardiology and electrophysiology at Stanford University. He is the former president of the Heart Rhythm Society and currently serves as the president of the Utah chapter of the American College of Cardiology.
Podcast: Play in new window | Download
Subscribe: Apple Podcasts | Android | RSS
Is breakfast really the most important meal of the day?
Your grandmother was full of good advice. But if she told you that "breakfast is the most important meal of the day," you only got part of the story.
An early meal can be a vitally important part of the day — for some people, and only if it's a truly healthy breakfast.
What is a healthy breakfast?
What's a truly healthy breakfast look like? Well, it looks something like what a lot of people have for dinner: A big salad with nuts and seeds on top served with some wild salmon and fruit.
As for the more standard American breakfast foods — processed cereal, pancakes or waffles doused with syrup, processed meats and fruit juice — that really couldn't be a worse way to start the day. You might as well not eat breakfast at all.
Is skipping breakfast bad?
And for some people, skipping even a very healthy breakfast isn't a bad idea. One exceptionally well-done study from England, for instance, demonstrated that metabolism and heart disease are not significantly affected by either eating or skipping breakfast.
Breakfast eaters in the study did appear to be more physically active in the morning — that's a good thing. Breakfast eaters also ate more total calories, though, and had a statistic trend toward weight gain — that's a bad thing.
Tip: Try a Break/fast
My general advice to my patients regarding breakfast is this:
Children should eat breakfast — and the healthier that breakfast can be, the better.
Adults should stop thinking about a Denny's Grand Slam when they picture a typical breakfast and start thinking more about what a healthy lunch or dinner might look like, with a responsibly sized protein and plenty of veggies.
Eat breakfast if you need breakfast. Don't eat it if you don't.
How do you know if you need breakfast?
Choose a day a week to go without it and hold onto the habit for a month, paying close attention to how you feel during those days. If you find that your energy level isn't impacted, try a second day. Make sure you're eating a very healthy lunch and dinner on these days and the days preceding.
This sort of short fasting isn't for everyone. Personally, I feel lethargic, grouchy and irritable without my breakfast.
Intermittent Fasting
For many of my patients this type of intermittent fasting has been one of the keys to better health. Why? Because short periods without food allow our bodies to "reset," dedicating energy and attention to things other than the digestion of food and distribution of the chemicals it provides to us.
If skipping breakfast is not your preferred method of intermittent fasting, the same thing can be accomplished by not eating until morning after an early dinner. This resetting process from intermittent fasting is likely a big reason why some studies show that people who occasionally go without food may be less prone to suffer coronary artery disease and diabetes.
Take Home Message
The bottom line is that there simply is no scientific proof that breakfast is the most important meal of the day for adults.  If breakfast works for you then continue to eat breakfast.  If not, then don't.
Do you eat breakfast?  Please share you thoughts and questions regarding breakfast in the comment section below.  If you liked this article, please follow the links to my free weekly newsletter and podcast.
Subscribe to Dr. Day's Weekly Newsletter
Disclaimer Policy: This website is intended to give general information and does not provide medical advice. This website does not create a doctor-patient relationship between you and Dr. John Day. If you have a medical problem, immediately contact your healthcare provider. Information on this website is not intended to diagnose or treat any condition. Dr. John Day is not responsible for any losses, damages or claims that may result from your medical decisions.
12 Comments