Jane Day
Jane Day is co-author with Dr. John Day of "The Longevity Plan," documenting their journey to China's Longevity Village. "Preparing food for guests has always been a stressful thing - feeling inadequate and fearing that the dishes wouldn't turn out. Posting recipes has been an exercise in the ultimate confrontation of this fear. Gratefully, the joy in figuring out how to make favorite dishes with healthier ingredients now exceeds the fear and I take courage in the idea that maybe I can help someone else do the same."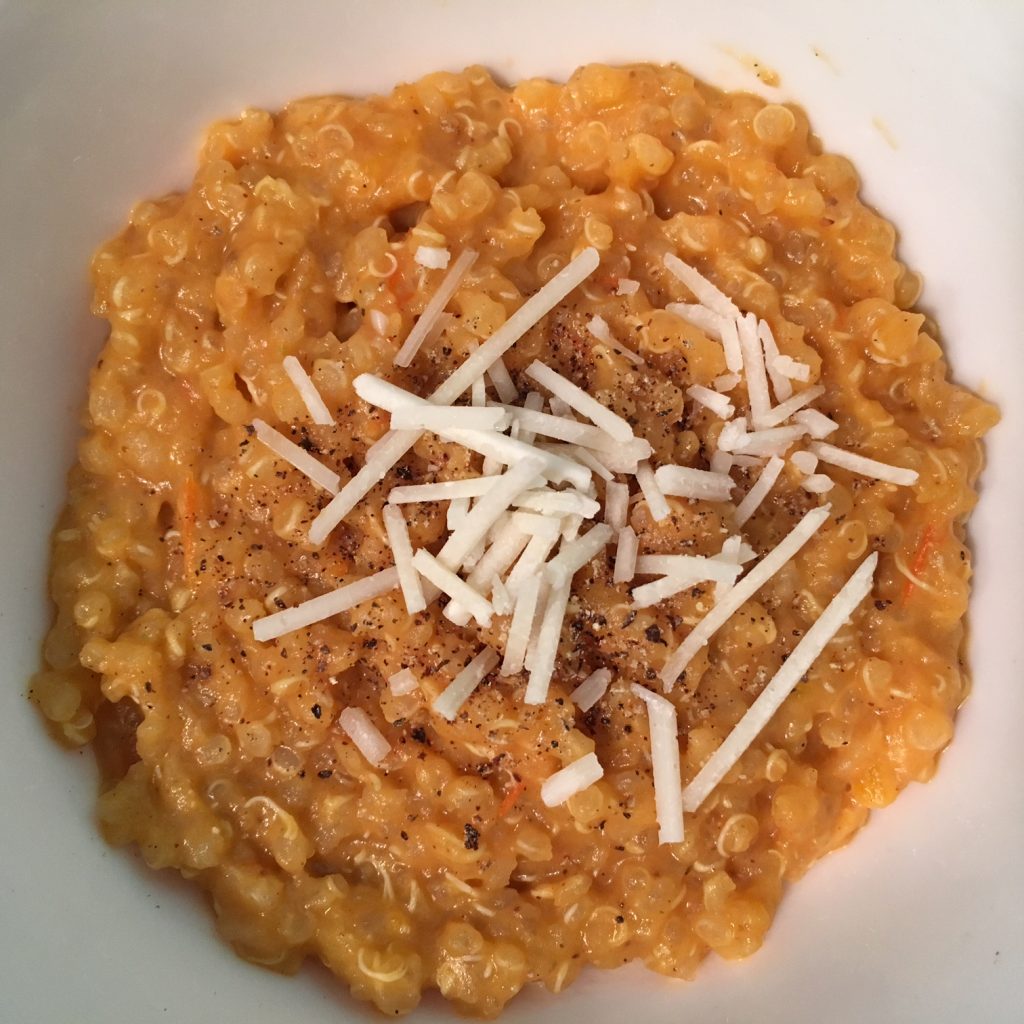 This creamy vegetable quinoa dish is a combination of my Sweet Spice Soup recipe and cooked quinoa. I simply combined the leftovers of each and topped with cracked pepper and parmesan cheese for a new dish.
Quinoa is remarkably nutrient-rich and easy to prepare.  It boasts of antioxidant and anti-inflammatory phytonutrients, flavanoids, protein, fiber, and is a great source of manganese, copper, phosphorus, magnesium, folate, and zinc.
Quinoa can be enjoyed as a grain and even ground into flour, as in my Quinoa Crepes recipe.
Quinoa is very easy to cook–even quicker than rice–boil 1 part rinsed quinoa to 2 parts water, simmer 15-20 minutes until soft and translucent, thenfluff with a fork.
You can't beat the satisfaction of this comfort dish with the powerful nutrients, protein and fiber of the veggies and quinoa combined.

2

cups

rinsed quinoa

4

cups

water

pinch

kosher salt
olive oil

3

cloves

garlic

2

medium yellow onions

1

small sweet potato

with peel

3

medium tomatoes

1/2-1

butternut squash

appx 2

cups

milk

add milk until veggies just blend in blender, maintain thick consistency

1/4-1/2

tsp

cardamom

to taste--start small and add

1/4-1/2

tsp

nutmeg

to taste--start small and add

1/4-1/2

tsp

cinnamon

to taste--start small and add

salt

to taste
To cook Quinoa: Rinse 2 cups quinoa. Bring to boil in pot on stove 2 cups quinoa and 4 cups water. Reduce to simmer and cook for 15-20 minutes, until soft and translucent and most of the water is absorbed. Fluff with a fork.
To cook Sweet Spice Soup: Rinse and chop veggies into chunks approximately one inch or so. Put olive oil in wok or large pan over medium heat and sauté onions and garlic for a few minutes. Then add the other veggies and cook until soft. Throw all the veggies into a blender with just enough milk for a thick consistency, spices, and salt, and blend until smooth.Enjoy! *Preparing butternut squash is quite easy. Cut off ends, cut lengthwise, scoop seeds out, slice into eighths lengthwise and steam in steaming basket over 1 inch water in covered pan on stove unit soft, then peel. Or, cut into chunks, peel, and throw into wok or large pot with the other veggies. In this case, I steamed two butternut squash and stored the extra in the fridge for future use.
Combine 1 1/2 cup cooked quinoa and 1 cup Sweet Spice Soup (also see Sweet Spice Soup recipe on our website drjohnday.com for instructions) Top with freshly ground pepper and parmesan cheese
Disclaimer Policy: This website is intended to give general information and does not provide medical advice. This website does not create a doctor-patient relationship between you and Dr. John Day. If you have a medical problem, immediately contact your healthcare provider. Information on this website is not intended to diagnose or treat any condition. Dr. John Day is not responsible for any losses, damages or claims that may result from your medical decisions.
0 Comments