Jane Day
Jane Day is co-author with Dr. John Day of "The Longevity Plan," documenting their journey to China's Longevity Village. "Preparing food for guests has always been a stressful thing - feeling inadequate and fearing that the dishes wouldn't turn out. Posting recipes has been an exercise in the ultimate confrontation of this fear. Gratefully, the joy in figuring out how to make favorite dishes with healthier ingredients now exceeds the fear and I take courage in the idea that maybe I can help someone else do the same."
We were so excited to discover these organic Explore Asian noodles made from edamame and mung beans. These noodles are absolutely packed with protein and fiber, are gluten-free and allow us to enjoy our favorite pasta dishes while promoting good health. This brand also offers black bean spaghetti, soybean spaghetti, adzuki bean spaghetti and edamame spaghetti. We found a local Costco store which carries certain varieties of Explore Asian noodles.  You can also order them online. There may also be other similar brands to discover. Enjoy!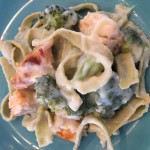 1

head

organic cauliflower

cut up and steamed

1

cup

organic milk

almond, cow, soy--whatever type you like

1/8

tsp

salt

or more, to taste for white sauce

1

package

Organic edamame and mung bean fettucine

boil for a few minutes until soft, drain, rinse

2

medium heads

organic broccoli

cut into florets

1-2

medium fillets or patties

Baked Wild Alaskan Salmon

cut into 1" pieces

3-4

oz

firm organic tofu

if desired
White sauce-One head of cauliflower steamed until soft in steamer over pot of boiling water, about 15-20 minutes. Mix with milk, salt (and tofu, if desired) in blender until creamy. Leave in blender. In a pot on stove boil water, add Edamame and mung been noodles and cook just a few minutes until soft. Pour white sauce from blender into separate medium sized pot over medium heat on stove. Add broccoli florets (about 2 medium heads) and cook about 5 minutes in white sauce until tender crisp. You could also add other veggies such as red peppers, or sautéed onions, or peas or whatever sounds good to you. Drain water and add noodles (as many as desired--I used about a cup) to Alfredo and broccoli. Add baked salmon diced about 1 inch cubes. In this case, I used baked Wild Alaskan salmon patties found in the frozen section at Cosco.
Disclaimer Policy: This website is intended to give general information and does not provide medical advice. This website does not create a doctor-patient relationship between you and Dr. John Day. If you have a medical problem, immediately contact your healthcare provider. Information on this website is not intended to diagnose or treat any condition. Dr. John Day is not responsible for any losses, damages or claims that may result from your medical decisions.
2 Comments