Jane Day
Jane Day is co-author with Dr. John Day of "The Longevity Plan," documenting their journey to China's Longevity Village. "Preparing food for guests has always been a stressful thing - feeling inadequate and fearing that the dishes wouldn't turn out. Posting recipes has been an exercise in the ultimate confrontation of this fear. Gratefully, the joy in figuring out how to make favorite dishes with healthier ingredients now exceeds the fear and I take courage in the idea that maybe I can help someone else do the same."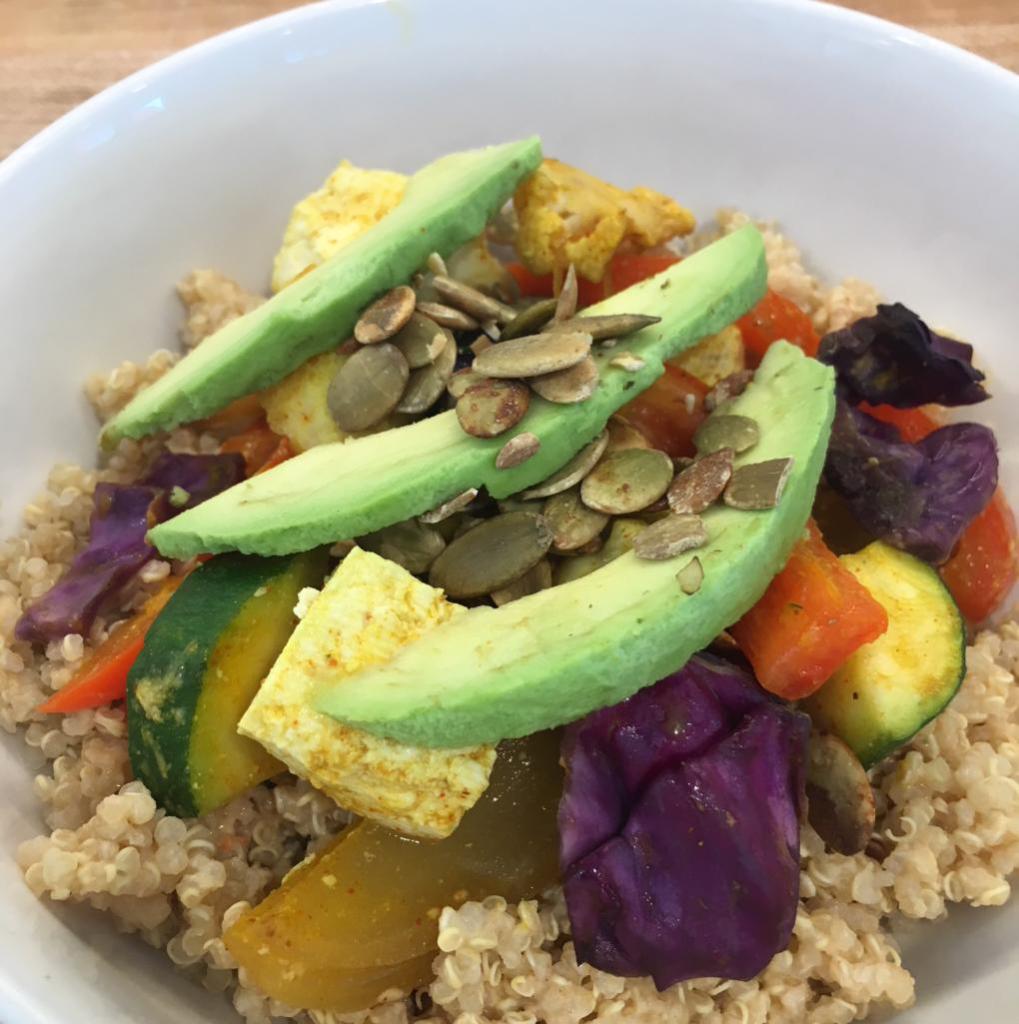 Go ahead and get creative with this one! Sauté whatever veggies you have with this flavorful blend of rice vinegar, liquid aminos, sesame oil, turmeric, harissa and nutritional yeast. Serve your veggies over quinoa mixed with hummus and lime. Sprinkle with avocado and toasted pumpkin seeds or favorite nut or seed. Yum! Yum! Yum!

2

yellow onions

sliced

2

cups

cauliflower

1/2-1 inch pieces

2

cups

purple cabbage

shredded

1

red pepper

sliced

1

zucchini

cubed 1/2-1 inch

tofu

cubed 1/2-1 inch

2

tablespoons

Sesame oil

rice vinegar

generous sprinkle to taste

liquid aminos

generous sprinkle to taste (slowly, as it will quickly become salty)

1

tablespoon

turmeric

1

tablespoon

Harissa moroccan spice blend

if you have some, more if desired

2

tablespoons

nutritional yeast

adjust to taste
6

cups

cooked quinoa

3/4

cup

roasted red pepper hummus

6

teaspoons

lime juice
Avocado

sliced or diced, sprinkled on top

toasted pumpkin seeds, slivered almonds or sesame seeds

or favorite nuts or seeds, sprinkled on top
1. Mix cooked quinoa, hummus and lime. Set aside. 2. Sautee onions in sesame oil until soft. Add other veggies, vinegar, aminos and spices, stir and cook until just softened. Mix in nutritional yeast. 3. Put 1 cup quinoa mixture in bowl. 4. Top generously with veggie mix. 5. Top with avocado and seeds or nuts. 6. Serve.

To cook quinoa, first make sure your quinoa is rinsed. Then cook 1 cup of quinoa to 2 cups of water on the stove for about 15-20 minutes until water is absorbed, stirring occasionally, then fluff with a fork and let sit for a few minutes.
Disclaimer Policy: This website is intended to give general information and does not provide medical advice. This website does not create a doctor-patient relationship between you and Dr. John Day. If you have a medical problem, immediately contact your healthcare provider. Information on this website is not intended to diagnose or treat any condition. Dr. John Day is not responsible for any losses, damages or claims that may result from your medical decisions.
3 Comments