Jane Day
Jane Day is co-author with Dr. John Day of "The Longevity Plan," documenting their journey to China's Longevity Village. "Preparing food for guests has always been a stressful thing - feeling inadequate and fearing that the dishes wouldn't turn out. Posting recipes has been an exercise in the ultimate confrontation of this fear. Gratefully, the joy in figuring out how to make favorite dishes with healthier ingredients now exceeds the fear and I take courage in the idea that maybe I can help someone else do the same."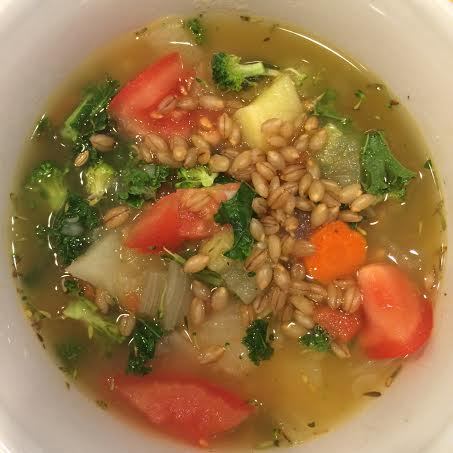 This soup was a random concoction of the vegetables we earned for helping at the community garden.  The shapes and sizes of the veggies were also random, as the kids all helped chop.  Use whatever you have on hand or follow this recipe, as works for you. Use organic or local when possible. It will turn out to be a nourishing and delicious soup.

6+

cups

water

adjust if needed based on volume of veggies

2-3

cubes

vegetable bouillon

1 1/2

cups

rinsed barley

1

large yellow onion

diced

1

large sweet potato

diced

2-3

carrots

diced

3

medium tomatoes

chopped

1

large zucchini

chopped

1

head

broccoli

cut into small pieces

4

large leaves of kale

torn/shredded into small pieces

1-2

tbl

Italian herb blend or Herbs de Provence

to taste

salt

to taste

pepper

to taste
Boil water and bouillon in large pot on stove. Chop vegetables about 1/2-" thick. Add barley, onion, carrot and sweet potato to water and bouillon. Cook for about 20 min. Add remaining veggies (except kale), herbs, salt and pepper. Cook until nearly tender. Add kale right at the end.
Disclaimer Policy: This website is intended to give general information and does not provide medical advice. This website does not create a doctor-patient relationship between you and Dr. John Day. If you have a medical problem, immediately contact your healthcare provider. Information on this website is not intended to diagnose or treat any condition. Dr. John Day is not responsible for any losses, damages or claims that may result from your medical decisions.
1 Comments