Jane Day
Jane Day is co-author with Dr. John Day of "The Longevity Plan," documenting their journey to China's Longevity Village. "Preparing food for guests has always been a stressful thing - feeling inadequate and fearing that the dishes wouldn't turn out. Posting recipes has been an exercise in the ultimate confrontation of this fear. Gratefully, the joy in figuring out how to make favorite dishes with healthier ingredients now exceeds the fear and I take courage in the idea that maybe I can help someone else do the same."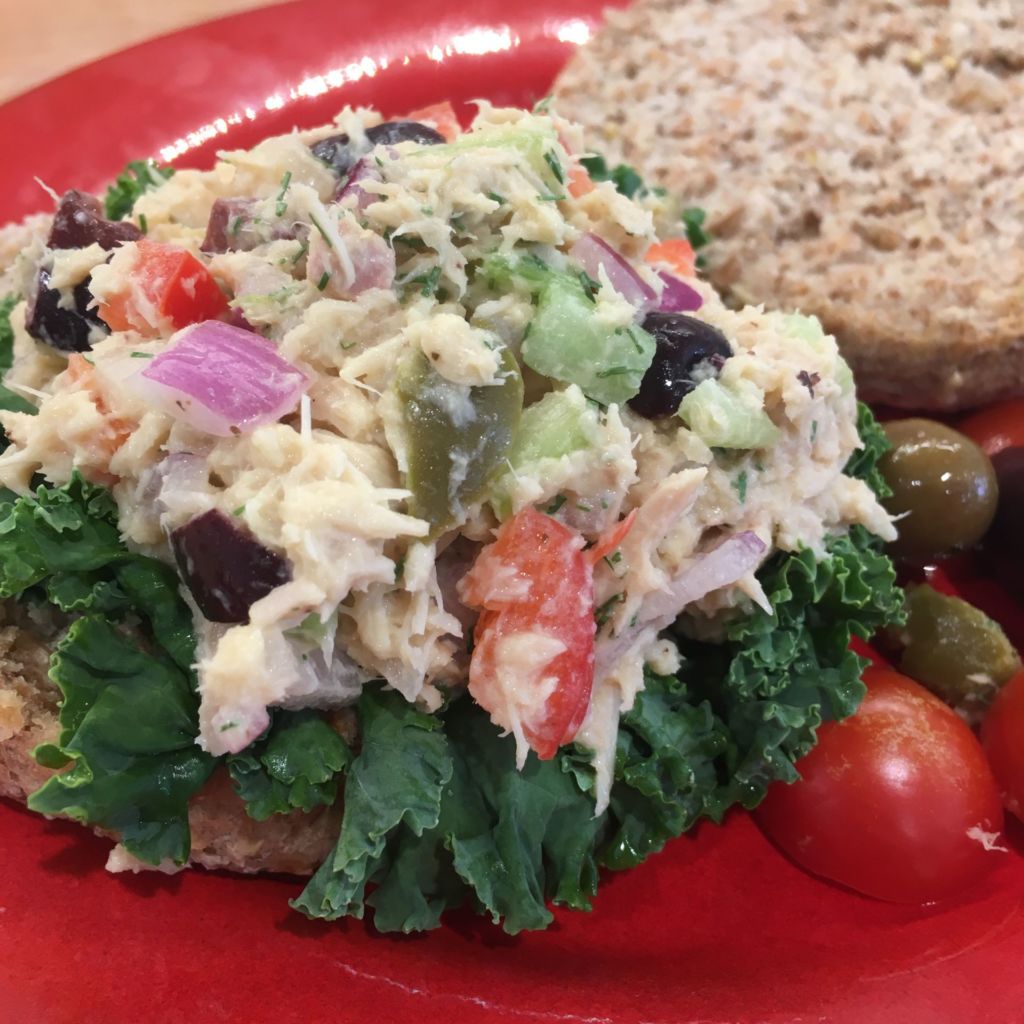 Zingy tuna salad packs lots of nutrients, flavor and texture: lemon, raw crushed garlic, dill, favorite mustard, hummus, red wine vinegar, olive oil, chopped olives, red onion, celery, and red bell pepper.
Raw garlic is so good for you! And this recipe is one delicious way to incorporate it into your cuisine. Don't be shy! If my 1-year-old can do it, you can too. After his first bite of this dish, my 1-year-old signed "more," for another, and another, until he and I polished off the entire batch in one sitting.
Serve atop a leaf of kale or lettuce on a flourless sprouted grain English muffin (often found in freezer of health food section).

1

5 oz can

tuna

1/2

juiced lemon

5

tablespoons

hummus

1/2

teaspoon

favorite mustard

1

teaspoon

red wine vinegar

1

teaspoon

olive oil

1

teaspoon

dried dill-fresh, if available

1/4

cup

finely diced red onion

1/4

cup

finely chopped celery

1/4

cup

finely chopped red pepper

2

tablespoons

diced green or kalamata olives

1

clove

crushed garlic

freshly ground pepper, if desired
Disclaimer Policy: This website is intended to give general information and does not provide medical advice. This website does not create a doctor-patient relationship between you and Dr. John Day. If you have a medical problem, immediately contact your healthcare provider. Information on this website is not intended to diagnose or treat any condition. Dr. John Day is not responsible for any losses, damages or claims that may result from your medical decisions.
2 Comments