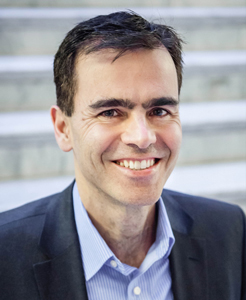 Dr. John Day
Dr. Day is a cardiologist/electrophysiologist at the Intermountain Medical Center Heart Institute in Salt Lake City, Utah. He graduated from Johns Hopkins Medical School and completed his residency and fellowships in cardiology and electrophysiology at Stanford University. He is the former president of the Heart Rhythm Society and currently serves as the president of the Utah chapter of the American College of Cardiology.
Podcast: Play in new window | Download
Subscribe: Apple Podcasts | Android | RSS
Why You Need More Fat in Your Diet
Do you really need more fat?
Everyone knows that if you want to cut the fat on your body that you have to cut the fat in your meals. That seems obvious enough, doesn't it?
Indeed, it's what we've been telling ourselves for a long time.  And, that is exactly what most Americans are still doing.  According to a recent Gallup poll, nearly twice as many Americans are cutting back on fat than carbohydrates.
The problem is that, much as not all carbs are bad, not all fats are, either — and so fat avoidance is a very good road to nowhere.
Can you get too much fat?
Studies have shown, for instance, that even ingesting a liter each week of olive oil (which is high in oleic acid, a monounsaturated, omega-9 fatty acid) does not cause weight gain. A liter!
Not All Fats Are Created Equal
Trans fat, though, is devastatingly bad for us. It has been shown again and again to cause intense weight gain and heart disease. And the highly processed industrial vegetable oils that are so often included in processed foods — like soybean oil, corn oil and sunflower oil — may not be that far behind.
If you're among the people who have made the mistake of thinking that fat is fat — or even if there are better and worse fats, that it's safest to just avoid them all — then you shouldn't feel bad. Companies that peddle processed foods are always trying to game the system by claiming some trans fats aren't actually trans fats. Instead, they call these fats "partially hydrogenated." In no small part as a result of this confusion, we consume way too many trans fats, and not enough healthy fats.
Why Low Fat Diets Don't Work
That problem is further aggravated by the fact that, when people cut any kind of fat from their food choices, they tend to replace it with processed carbohydrates. It's no wonder that studies show low-fat diets don't work very well.
Tip: Go Nuts
As you've no doubt noticed, I've got a real bias against processed and prepared foods. That's especially true when it comes to foods with unhealthy fats.
Now, it's true that large quantities of some naturally occurring fats — like bacon fat — may be unhealthy, too. But the best way to start is to avoid fats in processed foods. After you've taken that step, you can start to worry about which natural fats you're ingesting.
You Need More Fat from Real Food
At that point, one of the best things you can do is to get as much of your fat as possible from other real foods like avocados or olives — and especially seeds and nuts.  Indeed, studies show nuts are one of the best foods to lose weight! Why? Simply because of what happens in your body when you eat them.
The Almond Effect
Take a handful of almonds, for instance: First of foremost, they fill you up with protein, fiber and fat. They're also packed with a very healthy dose of vitamins B2, E and H and a bunch of additional healthy minerals. And because there isn't much natural sugar in an almond, there's almost no effect on your blood sugar — which means your liver is left alone to do more important things than making fat.
Can you gain weight from healthy fats?
Now, could you get fat by eating healthy fats like nuts if you really gorged yourself? Theoretically, sure — but its incredibly unlikely. That's because the long-lasting filling effect of nuts prevents much over-eating.
I definitely don't advise my patients to eat seeds and nuts in lieu of other healthy foods — and especially not in lieu of vegetables — but I don't worry much about the possibility that they might overeat seeds and nuts if they're including those healthy fats in a regular and balanced intake of real food.
Take Home Message
The take home message of this article is that you probably need more fat in your diet. You really do need the healthy fats from nuts, seeds, vegetables, fruits, legumes, and fish for optimal health and to maintain a healthy weight.
Was it hard for you to give up the 1980s mindset that all fat is bad?  Please share your thoughts and questions below.
Not yet subscribed to my free weekly newsletter and podcast?  Follow these links to subscribe now to my free weekly newsletter and podcast.
Subscribe to Dr. Day's Weekly Newsletter
Disclaimer Policy: This website is intended to give general information and does not provide medical advice. This website does not create a doctor-patient relationship between you and Dr. John Day. If you have a medical problem, immediately contact your healthcare provider. Information on this website is not intended to diagnose or treat any condition. Dr. John Day is not responsible for any losses, damages or claims that may result from your medical decisions.
6 Comments