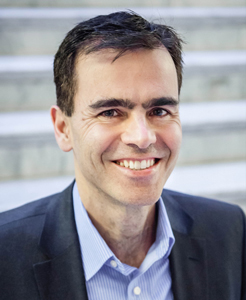 Dr. John Day
Dr. Day is a cardiologist/electrophysiologist at the Intermountain Medical Center Heart Institute in Salt Lake City, Utah. He graduated from Johns Hopkins Medical School and completed his residency and fellowships in cardiology and electrophysiology at Stanford University. He is the former president of the Heart Rhythm Society and currently serves as the president of the Utah chapter of the American College of Cardiology.
Podcast: Play in new window | Download
Subscribe: Apple Podcasts | Android | RSS
Will Caffeine Make You Live Longer?
According to a recent Stanford University study, caffeine may block age-related inflammation and extend life.  This study follows in line with many other studies also showing that natural sources of caffeine may lengthen your lifespan.  In this article, I review the science and answer the question, will caffeine make you live longer?
The Stanford Caffeine Study
In blog #197, I discussed how keeping inflammation levels as low as possible may help you live to age 110.  As my blog readers know, inflammation is one of the main causes of heart disease, dementia, and cancer.
In this Stanford study, researchers also came to the same conclusion.  Age-related inflammation is the major driver of health and longevity in humans.
As part of their experiment, they wanted to see if caffeine could make you live longer by blocking this age-related inflammation.  To do this, they recruited about a hundred people, followed them for many years, and closely monitored which genes were turned on and which were turned off.
In particular, they were focussed on the inflammatory molecule interleukin 1β.   Interleukin 1β is an age-related molecule that is readily seen as people get older and have many medical conditions.
What they found was really quite interesting.  Those people consuming the highest levels of natural caffeine had very low expression of genes associated with inflammation or interleukin 1β.  Thus, people regularly consuming natural caffeine were much less likely to have cardiovascular disease and other age-related diseases.
Intrigued by this link between caffeine and aging, Stanford researchers then gave mice caffeine and observed that the caffeine shut down age-related inflammation.  In particular, this caffeine shut down gene expression of interleukin 1β.
Other Caffeine and Longevity Studies
This Stanford study is not the only study that has linked caffeine to longevity.  For example, it is well-known from other studies that if you give caffeine to worms, flies, or mice that they will live longer.  In mice, caffeine also seems to prevent dementia.
While most people would prefer that worms, flies, or mice don't live longer, there are other studies showing that humans also live longer with natural caffeine.  Indeed, a recent Harvard study of 133,611 people showed that those consuming the highest amounts of natural caffeine lived 12% longer than those not getting any natural caffeine.
Natural vs. Artificial Caffeine
There is a difference between natural and artificial sources of caffeine.  For example, I have yet to see a study which says that drinking soda pop or Red Bull or even eating milk chocolate makes you live longer.  In contrast, there have now been many studies linking dark chocolate, tea, and coffee to longevity.
How might caffeine make you live longer?
Intuitively, it doesn't make sense that caffeine might extend your life.  After all, caffeine raises your blood pressure and heart rate.  These effects would be expected to shorten your life, not extend it.
Perhaps caffeine really has nothing at all to do with longevity.  This could explain why artificial caffeine has never been shown to improve health whereas dark chocolate, tea, or coffee may offer some health benefit.
For example, dark chocolate, tea, and coffee are all high in antioxidants.  Antioxidants are molecules that block free radicals in your body.  Free radicals are byproducts of your body making energy.  Free radical production is also one of the major causes of aging and inflammation.  Outside of fruits and vegetables, dark chocolate, tea, and coffee have some of the highest concentrations of antioxidants measured.
Alternatively, it could also be other metabolites such as theophylline and theobromine which are abundant in natural caffeine sources.  These metabolites might also have a beneficial effect that we don't fully understand at this time.
Take Home Message
The most important thing to take away from this article is that these studies don't provide any conclusive proof that natural caffeine will make you live longer.  All we can say is that many studies have shown a link between natural caffeine sources and human longevity.
Thus, the research isn't strong enough that natural caffeine products be recommended to anyone.  However, if you like the taste of dark chocolate, tea, or coffee then the studies reviewed in this article will be reassuring to you.
It goes without mention that you need to approach natural caffeine products with common sense.  These should only be taken in moderation if at all.
If dark chocolate is your preferred natural caffeine source, then the less sugar you get with your dark chocolate the better.  Ideally, your dark chocolate will also be as close to 100% cacao as you can tolerate.
For coffee lovers, the cream and sugar could completely undo any possible health benefits of this drink.  Likewise, drinking too much coffee or tea could trigger cardiac arrhythmias, insomnia, tremors, and other problems.
What's your take on these natural caffeine longevity studies?
Please leave your thoughts and questions below.  I'll do my best to answer any question within 24 hours.  Of course, if you haven't yet subscribed to my free weekly newsletter or podcast, now would be a great time by following these links!
Subscribe to Dr. Day's Weekly Newsletter
Disclaimer Policy: This website is intended to give general information and does not provide medical advice. This website does not create a doctor-patient relationship between you and Dr. John Day. If you have a medical problem, immediately contact your healthcare provider. Information on this website is not intended to diagnose or treat any condition. Dr. John Day is not responsible for any losses, damages or claims that may result from your medical decisions.
11 Comments