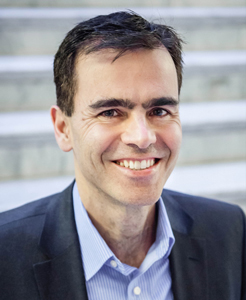 Dr. John Day
Dr. Day is a cardiologist/electrophysiologist at the Intermountain Medical Center Heart Institute in Salt Lake City, Utah. He graduated from Johns Hopkins Medical School and completed his residency and fellowships in cardiology and electrophysiology at Stanford University. He is the former president of the Heart Rhythm Society and currently serves as the president of the Utah chapter of the American College of Cardiology.
Podcast: Play in new window | Download
Subscribe: RSS
The 3 Most Dangerous Over-the-Counter Medications
Just because you can buy medicine without a prescription doesn't mean it is safe.  In this article, I share the three most dangerous over-the-counter medications and offer simple solutions to avoid these drugs.
As a disclaimer, please don't stop any medications without speaking to your doctor first.  As with everything in life, your doctor can help you weigh the risks versus benefits of any treatment.  It is possible that your doctor has you on one of these drugs to prevent a life-threatening health condition.
1. Proton Pump Inhibitors (Prilosec, Prevacid, and Nexium)
Proton pump inhibitors, or PPIs, are a multi-billion dollar industry.  No other stomach acid blocking medication comes anywhere close to PPI drugs with regards to efficacy.  As 60% of all Americans experience acid reflux in any given year, it is no wonder why PPI drugs are so popular.
While PPI drugs may help to prevent cancer in people with a diagnosis of Barrett's esophagus, a new study this week showed that taking PPI drugs increases your risk of stomach cancer. If the risk of stomach cancer wasn't frightening enough, my former Stanford professor, Dr. John Cooke, recently published a study showing that PPI drugs can wear out your heart, brain, and kidneys.
Studies also show that PPI drugs block the absorption of crucial vitamins and minerals for health like magnesium, iron, vitamin B12, calcium, and vitamin C.  Perhaps this explains why PPI use is associated with an increased dementia risk.  Lastly, PPI drugs have been shown in studies to wreak havoc on the gut flora.
With all of these risks, why do people still take PPI drugs?  Speaking as someone who used to gobble down PPI drugs for eosinophilic esophagitis, PPI drugs allowed me freedom from acid reflux chest discomfort without having to change my lifestyle.
In my case, eliminating dairy and junk food, in addition to losing 35 pounds, cured me of acid reflux.  For most of my patients, cleaning up their diet and losing weight has also got them safely off PPI drugs.  As one of the main causes of acid reflux is increased pressure within your abdomen, just losing weight may be your acid reflux cure.
I should point out here that just because you have acid reflux doesn't mean you should avoid dairy.  Dairy and junk food, in addition to being overweight, were my acid reflux triggers.  What it does mean is that you should look for your own specific acid reflux triggers or food allergies.
Other natural treatment strategies for acid reflux include eating smaller meals, avoiding fatty foods, staying away from anything with caffeine, sitting up for a few hours after eating, eating an early dinner, increasing physical activity, and finding ways to embrace stress.  If you must take a PPI drug, make sure your doctor is aware and that you take the lowest dose possible to control your symptoms.
2. Non-Steroidal Anti-Inflammatory Drugs (Advil, Motrin, Aleve, etc.)
Non-steroidal anti-inflammatory drugs (NSAIDs) can seem like a lifesaver to people with arthritis or musculoskeletal pain.  As someone who used to suffer from an autoimmune disease, ankylosing spondylitis which attacks the spine, my neck and back were always in a state of discomfort.  NSAIDs, or in my case Aleve, is what helped me to get through the day.
The two main problems with NSAIDs are that they increase your risk of a heart attack and internal bleeding. Indeed, studies show that all NSAIDs increase your risk of a heart attack by about 50%.  In addition to the heart attack risk, studies also show that NSAID users have up to a 4-fold increased risk of gastrointestinal bleeding and are at significant risk of kidney failure.
In my case, the two most important things I did to dramatically reduce my NSAID use was cleaning up my diet and losing 35 pounds.  As most people take NSAIDs for arthritis or musculoskeletal pain, getting back to a normal weight allows your joints to heal naturally.
Also, studies demonstrate that a Mediterranean Diet high in fruits, vegetables, nuts, seeds, legumes, fish, and olive oil significantly reduces the risk of arthritis.  Another thing to remember is that other natural ingredients like turmeric or capsaicin are both proven remedies for arthritis pain.
As with the PPI drugs, if you must take NSAIDs, make sure your doctor knows and always shoot for the lowest dose possible to keep your pain under control.  Also, make sure you are well hydrated to minimize the risk of kidney damage and take them on a full stomach to decrease your gastrointestinal bleeding risk.
3. Sedating Antihistamines (Benadryl, Tylenol PM, diphenhydramine, etc.)
The sedating antihistamines are those antihistamine cold and allergy medicines that put you to sleep.  While there are a number of these sedating antihistamines, the most commonly used is diphenhydramine.  Right up there with melatonin, diphenhydramine is one of the most frequently used over-the-counter sleep medications.
Personally, I struggle to resist this medication.  I have always had troubles both falling asleep and staying asleep.  Perhaps it is mostly a placebo effect, but at least in my experience, if I even take a quarter of a tablet of diphenhydramine I will effortlessly fall asleep and stay asleep during the night.
While I have never suffered from the diphenhydramine hangover effect the next day, many people do.  This hangover effect could put you at risk for a motor vehicle accident.
The reason why diphenhydramine made my list of the three most dangerous over-the-counter medications isn't that of the possible hangover effect the next day but rather because of the long-term effects.  Many studies show that long-term diphenhydramine use increases the risk of cognitive impairment (i.e., dementia).  If dementia wasn't bad enough, this drug might also increase the risk of premature death, cancer, and depression.
Once again, correlation doesn't prove causation.  In all of these diphenhydramine studies, it is impossible to know whether it was the drug causing all of these bad things or it was a lifetime of sleep deprivation that caused all of these bad things.
I need to be clear here that it is the sedating antihistamines that carry a possible dementia risk.  If you need to take antihistamines for seasonal allergies, always be sure to take the non-sedating antihistamines like Claritin or Allegra.
If you are currently taking a sedating antihistamine, like Tylenol PM, do everything possible to wean yourself off of this, or any other sleeping pill.  While I have published many insomnia hacks in previous articles, I have found that restricting caffeine, exercising hard outside, and not having any "to-do's" hanging over my head are the three main things that help me sleep naturally at night.  And if I do feel the overwhelming urge to take something before sleep, I try to only reach for melatonin and magnesium.
Practical Tips
Any pill, whether it be a pharmaceutical agent, over-the-counter drug, or even a supplement, can have significant side effects.  My personal bias is to avoid any pills whenever possible.  Rather than reach for a pill, always see if there is a natural way to treat your health challenges.
Indeed, I am now a firm believer in the quote from the father of medicine, Hippocrates, who said more than 2,000 years ago,
"Let food be thy medicine and medicine be thy food."
Do you take any of these three over-the-counter medications?  Please leave your thoughts and questions below in the comment section.  The comment section will be open for 30 days, and I will answer every question posted.
If you enjoyed this article, please be sure to read our book, The Longevity Plan, subscribe to our newsletter, or listen to our podcast!
Subscribe to Dr. Day's Weekly Newsletter
Disclaimer Policy: This website is intended to give general information and does not provide medical advice. This website does not create a doctor-patient relationship between you and Dr. John Day. If you have a medical problem, immediately contact your healthcare provider. Information on this website is not intended to diagnose or treat any condition. Dr. John Day is not responsible for any losses, damages or claims that may result from your medical decisions.
26 Comments